Please join us for this year's McLean lecture series in Canadian Studies by McLean Chair and Professor of Geography, Graeme Wynn.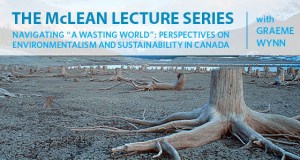 "Navigating a 'Wasting World': Perspectives on Environmentalism and Sustainability in Canada"
When: March 7, 14 and 21 @ 7pm
Where: Aquatic Ecosystems Research Laboratory, 2202 Main Mall, Lecture Hall,
Map: http://www.maps.ubc.ca/PROD/index_detail.php?locat1=316
A reception will follow the final lecture on March 21.
We look forward to seeing you there!
– Matthew Evenden, Chair of the International Canadian Studies Centre @ UBC  http://www.canadianstudies.ubc.ca/
____________________________________________________________________________________________________________________________________
NAVIGATING "A WASTING WORLD":
PERSPECTIVES ON ENVIRONMENTALISM AND SUSTAINABILITY IN CANADA
LECTURE 1: March 7
TAKING BEARINGS:
THE IMPERFECT ARC OF CANADIAN ENVIRONMENTALISM
LECTURE 2: March 14
UNDER PILOTAGE:
STORIES WE TELL OF FRONTIERS, HOMELANDS, AND WILD PLACES
LECTURE 3: March 21
BY DEAD RECKONING:
FIXING A COURSE FOR THE FUTURE
The three lectures in this series respond to contemporary anxieties, in Canada and elsewhere, about the despoliation of the earth. This is an old concern, given a new twist and a new urgency in the new millennium. Reflecting a conviction that the past, and the humanities, have something worthwhile to contribute to thinking about these matters, these lectures follow a traditional narrative pattern: exposition; rising action; resolution.  In sketching, albeit broadly, the history of environmentalism in Canada since the 1960s, lecture one identifies elements of a distinctive Canadian story, allows us to realize that we are neither alone nor helpless in the face of environmental anxieties, and lays out information that underpins the unfolding argument of the series. Lecture two emerges from its predecessor and introduces complications, by focusing on some of the most important stories Canadians have told in recent times about themselves and the environment, about the past and the future of the country, and about nature and nation. Lecture three draws upon the preceding discussions to reflect upon some of the challenges ahead. Rather than resolving them, it brings past and present into conversation in an effort to find a north star, or at least a few ideas, that might help us steer toward a future less bleak than that we are daily forced to contemplate by actions that hasten our progress toward and rhetoric that fears our arrival in a "wasted world."