What it is
UBC Library's Rare books and Special Collections is home to almost 6,000 maps that are catalogued online, of which more than 1,300 show various parts of Vancouver. This map, titled "Vancouver, B.C., 1890" can be found in Rare Books and Special Collections and online within the Special Projects section of the library's Digital Collections. In addition to showing street names and bodies of water, the map also has illustrations of various buildings, some of which are showcased in enlarged images. In addition to the 38 places that have their own illustrations, the map has 71 points plotted and listed in a legend on the bottom, as well as an inlaid map that shows Vancouver's connections to China, Japan, Australia and New Zealand. So, where did this map come from? What does it highlight? How has Vancouver changed since? Read on to find out.
Where to find it
This map can be found within the maps collection in UBC's Rare Books and Special Collections as well as online within UBC Library's Digital Collections Special Projects collection, which contains 29 items ranging from digitized versions of Debussy bank drafts to documents on the "Southward movement of moose in British Columbia." The Special Projects Collection aims to "emphasize the depth and breadth of the Library's rare materials holdings and give visitors a glimpse in to some unique materials," according to their website. For this assignment, I chose to focus on the digital version of the map.
Where it came from
This map was published by the Vancouver Daily and Weekly World Publishing Co. The Vancouver World was one of the largest papers in the city at the time and was published from 1888 – 1924. This map was a supplement to the holiday issue in 1890. A souvenir issue of the World can be found within the Wallace B. Chung and Madeline H. Chung Collection of the UBC library. The university acquired the map from the Provincial Archives of B.C. around 1978.
Who made it
The map is attributed as a lithograph from Elliot Pub Co, 120 Sutter St. SF. This refers to Wallace William Elliot's San Francisco-based company. He was involved in the production of almost 50 different city views from 1879 to 1891, this map is his only one of Vancouver. He other lithographs usually contain more text at the bottom extolling the cities they depict. At least 12 of his lithographs were published in Californian newspapers with the motivation of increasing subscriptions.
How it got here
The map is currently available for digital viewing through UBC Library Digital collections. So how does something from 1890 make it online? To scan most of its maps, the UBC libarary has a device called Contex Scanner. It can scan high-resolution images from documents up to 54 inches wide. But how does the library decide what's worth digitizing in the first place? For them, it's a combination of what they define as Value, Usefulness, Access, Potential, Available Resources & Technical Feasibility and Rights Issues. Based on a combination of all of the previous factors, the library determines what's worth the effort and resources to digitize.
Historical Relevance of the Map
By 1890, the city of Vancouver was on its way to becoming what it is today. In that year, its first high school opened and the city got its first electric street cars. As the map shows, the city had an active harbour, and the Canadian Pacific Railway had service to the city. The city was already home to several large buildings and real estate companies but the area was, not surprisingly, a lot less densely populated.
The City of Vancouver has archived 833 digital scans of maps. Only two of their digitized Vancouver maps go back to 1890, and none of them show the same area or anywhere near the same level of detail as this map.
How does the map compare to other maps from the time?
While there aren't too many maps from that time period that are readily available, a few other digitized ones can be found online.
This map, which shows what was burned in the Great Vancouver Fire of 1886 goes into far less detail of actual buildings, but seems to be to a different scale.
This map seems to take a similar view, though doesn't highlight any landmarks. Though it's hard to tell how true-to-life the map is, it seems to show the spread of housing outside of the city's core. The map bears a lot of resemblance to Elliot's map, though it was done by a Canadian company.
How have things changed?
It's no secret that Vancouver looks nothing like it did in the 1890s, but just how much has it changed? This map from 1890 – complete with its illustrations of buildings, seems to be a far older, less accessible version of Google street view. So, here's the modern day version of what the map would be:
The map also highlights some of the major buildings or blocks in the city, which were named after business magnates of time.
Dunn Block — 1890
Dunn Block — Modern Day
Hotel Vancouver – Granville Street
Rand Bro's Real Estate
Innes and Richards Real Estate: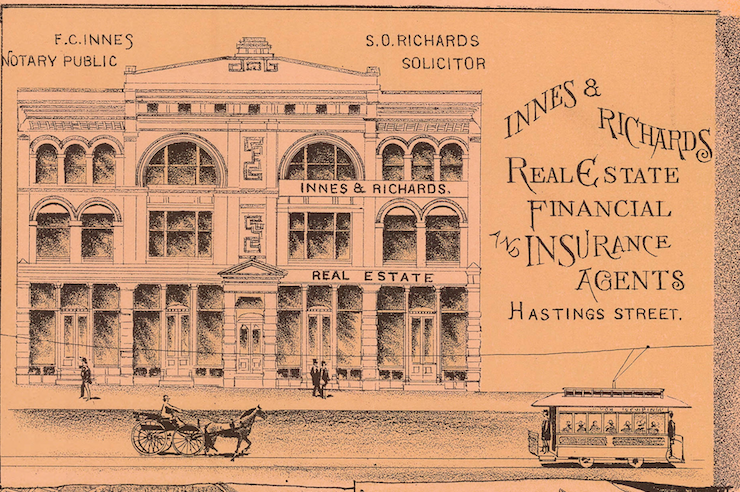 New York Block