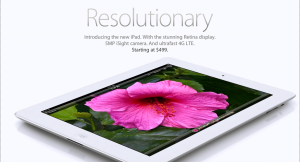 Last month the release of the new iPad from Apple has again draw the public attention and I did see a large number of people lining up in front of the Apple Store on that day and waiting to experience the newest features for iPad. This time, Apple use the word "revolutionary" to describe this new product with the stunning Retina display, 5MP iSight camera and ultrafast 4G LTE.
Well, for myself, I admit that I was attracted by their impressive marketing strategy for this new iPad. Indeed, I was almost addicted to it every time by Apple since I have purchased their products year by year from iPhone4 to this new iPad. Now only because I like to be a member of the "i-family" but also owning the newest products from Apple has become the fashion among teenagers. It has become a strong belief that the products from Apple, even after Steve Jobs has passed away, can always bring us the newest technology in The Contemporary Era. As a result, people would just go and purchase iPhone and iPad from one generation to the other without any hesitations.
However, a recent blog names "iPad 2 vs New iPad – Can You See The Difference?" suggests that for people in possession of both iPad 2and the recently released New iPad, it is hard to tell the cosmetic difference between the two models. Ironically, technologists at The Next Web have made a test by giving out the "new iPad"(which indeed are the iPad 2) to one hundred customers for the purpose of test use, 97% of them did not realize that they are actually holding the wrong iPad and among which 80% said they are satisfied with the experience of this "new iPad".
Here, I am not saying that Apple has made little progress in this new generation of iPad. However, as a customer I would for sure like to see some more "differences" that worth me to spend money on the new one rather than the older generations. If most of us can not even distinguish the new product from the old ones, would people still have their trust on the company and even want to buy the "NEW" iPad?
http://www.webpronews.com/ipad-2-vs-new-ipad-can-you-see-the-difference-2012-03