Executive hiring for 2022 is now closed!
We will be following up with applicants shortly to schedule interviews.
———————-
Joining the executive team at Agora Cafe is a wonderful opportunity to make lifelong friends, contribute to bettering the LFS community and develop skills and competencies. We are so excited to be expanding our team again and hiring new executives who will get the chance to contribute to major changes and developments in the cafe!
Due to the Omicron variant of COVID-19, there is a lot of uncertainty regarding what Agora Cafe's operations will look like for the January to April term of 2022. That being said, there are many improvements that the team is currently working on remotely to ensure the cafe is in the best shape to open – whenever that may be – and we need your help to make all of this happen. We look forward to having you join us on our team!
Please reach out to us on Instagram if you have any questions or concerns.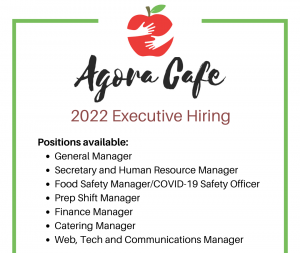 Please read the descriptions for the executive positions before applying!