After a successful pilot project, the Agronomy Garden core team designed a plan for expanding the space to accommodate more plants, humans, and food systems projects for the future. A proposal for expansion was sent in and approved by the development review committee at Campus and Community Planning this June.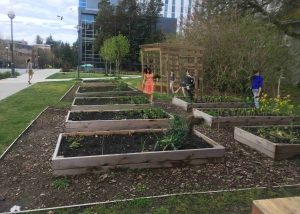 On the recommendation of two LFS 450 SEEDS projects, we will be adding four more raised bed planters, a covered structure to hang out in and grow vines on overlooking the garden (the "arbor"), and a new sign with a chalkboard and a mosaic.
The expansion is now complete!
Thanks to everyone who joined us to build the expansion of the Agronomy Garden. It wouldn't have been possible without the help of so many community members. We hope to see your faces during the upcoming academic year for other activities at the Agronomy Garden.