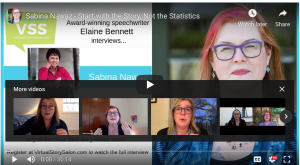 Interesting podcast interview with leadership coach Sabina Nawaz about storytelling able to make things "memorable."
Nawaz aptly remarks that "A story can engage a thousand neurons" and can get us "at the emotional level": That's what creates "retention."
So, let's hope that creative writing people and storytellers out there (mostly struggling to make a living) have a new role to play in the future of corporate world executives.
The problem is: do "leaders" have a "true" story to tell? And are people smart enough to understand when something is "made up" in order to be liked, coat the pill or sell what one has to sell?
Now more than ever it's fundamental to include in the picture, as Sabina does in the final part of her interview, the moral stance of "telling the truth," even when this is just the one-sided, partial truth an individual can be accountable for.