Talia Sechley
---
Graduation Year:
2010
Current Career/Job Title:
Senior Associate, Science & Impacts
Current Company/Organization Name:
Rainforest Alliance
Where you were born? 
Burnaby, British Columbia
Where do you live now? 
Oakland, California
What makes this job a good fit for you?
My role on the Science and Impacts team at the Rainforest Alliance is very dynamic and challenging – no two days are alike. This job is a great fit for me because I have an integrated research and policy background and enjoy communicating complex problems to diverse audiences. The Rainforest Alliance is working to drive sustainability in the agricultural and forestry sectors and I feel that my role in assessing and communicating the impact of our work directly serves this goal, which is motivating. I enjoy that my job allows me to use different parts of my brain on a daily basis, including designing research, creating engaging communications, and brainstorming about challenging issues at the intersection of the environment, human rights, and agriculture.
 Is your current career path as you originally intended?
I originally thought that I would pursue a career in academia, as a researcher. I love being in the field/lab and designing studies to tackle important and complicated questions. However, after earning my Master of Science degree and working in a number of research positions, I realized that I was most interested in learning how to use the results of research to inform decision-making and solve problems. I'm grateful for my research experience because it has allowed me to be much more impactful as a communicator and systems-thinker and has enabled me to work effectively at the intersection of science and policy.
What was your first role after graduation and what other jobs did you have before your current position?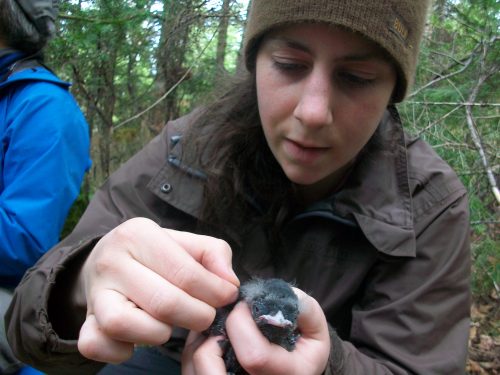 After graduating from UBC, I wanted to gain as much hands-on research experience as possible, which I did through a Master of Science degree from the University of Guelph and various field jobs in Australia, Canada, and the US. I then returned to school, for a Masters of Environmental Management degree at Duke University, to better understand how to integrate research into policy decision-making and to improve my ability to communicate technical scientific information. After that, I put my new skills to work during a two year science policy fellowship at the Duke Environmental Law and Policy Clinic, where I worked with lawyers, scientists, NGOs, and the government to tackle challenging local environmental policy problems in North Carolina. Finally, I found my current position at the Rainforest Alliance, which again allows me to put my research and communication skills to work every day.
What are some highlights from your time in the Biology Program at UBC?
At UBC, I really appreciated the diversity of classes available to me as an Animal Biology major. I especially enjoyed my 3rd and 4th years when I was able to participate in smaller, more specialized and hands-on classes such as Ornithology, Ecological Methodology, Zoogeography, Animal Physiology. I also volunteered at the Beaty Biodiversity Museum and worked as a lab and field assistant outside of my coursework, which I loved. These experiences allowed me to gain a breadth and depth of understanding on biology concepts and sparked my passion for research (and bird watching!) that prepared me well for a career in biology and environmental science.