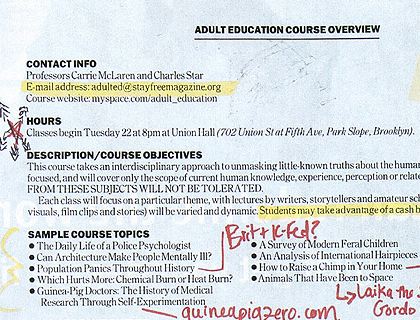 As an admirer of the sadly defunct Stay Free! magazine, I was drawn to the recent blog post presenting the syllabus (and presumed student annotations) of their ongoing adult education lecture series, which looks like a nifty combination of pedagogy and performance art… (Can one aspire to a higher calling?)
Click on the image for a full size reproduction.
One note to the estimable professors: I like the idea of hosting the course on a MySpace page, but the resulting requirement to take out an account to read the detailed entries is unfortunate. I've taken out enough fake-and-quickly-forgotten MySpace accounts for a lifetime.