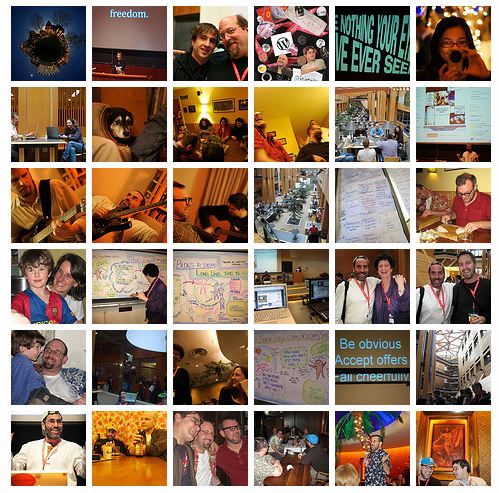 It seems that every year I sit down to write the post-mortem for Northern Voice and find myself at an absolute loss. This event is such a toxic cocktail of ideas, energy, urgency, depravity, laughter, logistics, friendship, and chronic sleep-deprivation that (my) words simply fail me.
So I'm telling myself that over the next couple weeks I'll try to write a series of mini-posts on some of the following bits:
* My overwhelming respect for the other conference organizers. Not to mention the volunteers, my colleagues in OLT and at UBC who really stepped up, the presenters, the sponsors and of course all of the attendees. That scope of praise dilutes the goodness, I know, and sounds like boilerplate… but this is an event where everyone contributes to the vibe.
* I knew we had a hot student team in OLT this semester, but their amazing volunteer efforts with the event and the conceptual progress we made on our pending blog platform have pushed me into mad passionate love for them. I'm so excited thinking about what we might yet get from this crew.
* Once again, I was so proud to be associated with an educator contingent that simply delivered the goods. I'm admittedly not the most neutral observer, but in all honesty I feel like our community was superbly represented at the wiki-tiki party/open-mic, Moose Camp, the conference presentations and everywhere else.
* EduGlu is so close… Mark my words, we are nearing a point where openness, simple tools on powerful platforms, syndication, remixing, and some sheer learning party craziness shakes and stirs together into something very potent indeed.
What's most astonishing to me is that despite my many personal flaws and missteps, I find myself enjoying a true embarrassment of riches. I cannot express how wealthy I am in family, friends, and professional colleagues.
Tags: northernvoice, nv08