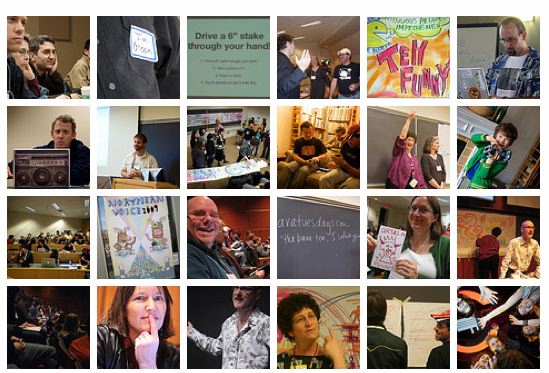 It happens every year. Once again I find myself at a loss when trying to make sense of the just-completed Northern Voice. I am not capable of pulling together a comprehensive summary, so allow me to toss out a few thoughts that I had, and some memories I will treasure.
WordCamp Education felt a bit like a letdown at the time, if only because some of us had such high hopes. But a number of the participants made a point of telling me later how much they benefited from the experience. It may have laid the foundation for (dare I say it?) a community of practice around educational social media here in the province. And that's worth going for…
At the opening keynote on Saturday, Nora Young played a sound clip of an early 20th century voice giving instructions on how to operate one those new-fangled telephones. (A clip supposedly at archive.org, but I have not been able to find it. Anyone?) She made the observation that as this technology began to be diffused into daily life, the social conventions around its use needed to be worked out over time. For instance, when answering the telephone, rather than "hello" we might easily have found ourselves saying "ahoy". For the rest of the day's discussions, "we're still at 'ahoy'" became a useful shorthand to describe where we are at with regards to how we use the web. It also crystallized to an extent some of my frustrations with so much educational technology practice, which in my view assumes a much more mature stage of interactions, and risks freezing us here…
I enjoyed the content of most of the sessions I attended, so it feels unfair to single just a few of them out. What I valued most was the permission people gave themselves to take risks, whether it was to discuss a pet topic that the convenor worried wouldn't go over (it did, of course, like gangbusters) or an invitation to have the participants join presenters in some dancing.  This opportunity to take chances seemed most precious to me when it didn't quite work. When Jerk With A Camera got up to talk about why he still loves analog film even in the age of digital, I personally couldn't have cared less. But his enthusiasm was undeniable, and the vibe in the room was respectful and curious. I doubt he convinced many of the attendees to convert back to film photography, but the people were ready to learn. The context was working.
Of course, D'Arcy is correct when he says the best part about Northern Voice is hanging out with friends old and new. I want to offer extra-special thanks to those who traveled to Vancouver, and fervently hope that the experience rewarded their investments of time, money, effort and energy. At a post-conference gathering, some of these friends had me laughing hard at their re-telling of a session I didn't attend. Evidently, the presenter's rhetorical approach was the repetition of a simple formula: "So… we have put together this [XXX], and it's AWE-some!" (Repeat, with a new variable for [XXX])  Now, I suppose some might reasonably argue that this session would point to a deficiency of the "unconference" approach, the need for more rigorous gatekeepers. But I find myself feeling the opposite, that by lowering the barriers we open up to new voices and new approaches, to amateurs (in the most positive sense), some of them more ready to share in a professional manner than others. And in fairness, from what I heard the actual work this person was involved with sounded freakin' awesome.
So hurray for everybody. We've got this fun little learning party called Northern Voice, and it's awesome…