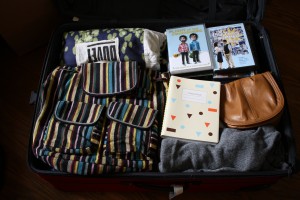 The essentials: duvet cover, movies, day planner and a circle scarf. What more could I possibly need?
Well, actually, it looks like it's going to be closer to four suitcases. I'll definitely be quite the sight while unloading my car on Saturday; come out to Vanier move-in if you want to see a clumsy girl with no upper body strength struggling with heavy bags that are twice her size. The current odds of me injuring myself are an estimated 1 in 5.
I know that most of my fellow first-years have already left for their future homes in beautiful British Columbia (I'm talking to you, Jump Starters), or at the very least have all their stuff together, but if you're like me and have been putting off packing until the last possible moment, here are a few tips I've come up with to help you get to Vancity in one piece.
Make a list. Whenever I go on a trip, I end up forgetting about twelve things at home, forcing my very grumpy family to turn the car around. Chances are, if you do happen to leave something behind, most of you won't be able to go back home and grab it, so it's always better to plan ahead. If you're in a rush, UBC Housing has put together a packing list specifically for new residents (including twin XL sheets and Ethernet cables!), which you can find here.
Roll up your clothes instead of folding them. It saves a ton of room and keeps your clothes from wrinkling. 'Nuff said.
Know your airline's baggage allowance. If you're getting to UBC by plane, make sure you know just how much stuff you can get away with bringing along. I thought that I was allowed to bring 2 suitcases with me, and planned my packing accordingly. Unfortunately, I soon discovered that this is only the case for international flights. Westjet and Air Canada only allow one suitcase per passenger for Canadian domestic flights, and it costs $20 to bring a second bag. If you have more baggage than that, prices start to get crazy high, which brings me to my next tip:
If you can get it in Vancouver, do it. In order to avoid paying for shipping or additional baggage, bring only the essentials with you. Things that can be picked up on campus, like toiletries, aren't really necessary to pack. Also, large items for your dorm room like drawers or a drying rack can take up a huge amount of space, so you'd be better off buying those once you arrive as well. Keep in mind that there's an Ikea trip during Firstweek where you'll have the chance to get a ton of cheap and stylish Swedish furniture (and some amazing meatballs!). I will definitely be taking advantage.
Also, Bed, Bath and Beyond recently started offering an amazing service called Pack and Hold, which basically allows you to order your stuff in-store before you leave, then pick up everything at the location closest to your school. I personally bought pretty much everything for my dorm, from my bedding to my shower caddy, using this service. The closest BB&B to campus is in North Van, so it's a bit of a trek, but it's more than worth the fortune I'm saving on shipping. As an added bonus, you also get to use the bridal registry scanner when shopping for your stuff, which was pretty legit if I may say so myself.
Anyways, I'd better get back to packing before I'm buried eternally in a mountain of clothes. Seriously, I haven't seen the floor of my bedroom in a week; I feel like I'm living in an episode of Hoarders. I hope everyone travelling to campus this week has a safe trip, wherever you're coming from, and I'll "BC-ing" you all very, very soon! (Please excuse the awful pun, I couldn't resist!)