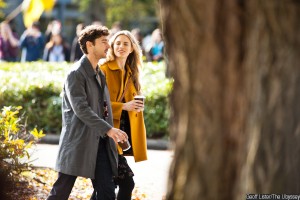 Oh hey, Shia. Photo taken by Geoff Lister of The Ubyssey. More photos here.
They don't call Vancouver Hollywood North for nothing. Robert Redford's movie, The Company You Keep, is currently filming on UBC campus, and my social networks have been running wild with mobile uploads, tweets and status updates regarding Shia Labeouf spottings.
Thanks to being bedridden with strep throat for the past couple of days, I haven't actually gotten a chance to have a casual run-in with Shia, although if I do, I'll refuse to call him anything other than Louis Stevens and ask him if he's seen Beans lately.