When I was looking into schools last year, one of my biggest concerns was where I was going to live. I had this horrible image of being like Will Ferrell in Elf, when he's in the North Pole and unable to stand up straight since everything is so tiny.
Then I got here and realized that this wasn't at all the case. The rooms can be a little bland at first glance, but with a little bit of creativity, you can easily make your little cube your own. So without further ado, lovely blog readers, here is a virtual tour of my room in Vanier. Usually I don't invite strangers into my room, but I had sushi for breakfast today. I'm in the mood to break all the rules.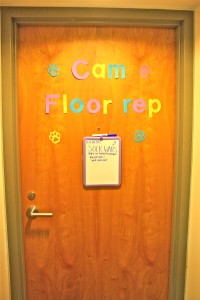 Welcome to Casa Cam!
Notice my lovely door decorations, designed so that people know who to come to with questions, ideas for floor events and/or requests to go to Hubbard's. A whiteboard is a university must, especially if you want to come back from class with funny pictures, quotes and messages from your floormies (or if you want to tell your floor about Sock Wars, which is epic and starting soon. I'll save that one for another blog post, though).
And now, ladies and gentlemen, my room.
It's an actual miracle how clean it is today. Now you see the extremely elevated bed I keep talking about. The heights of the beds in Totem and Vanier are adjustable, and I chose to put mine as high as it can possibly go. The bottom of it is about hip height, and thanks to the extra inches added by my memory foam mattress topper, I need to take a running leap to climb onto it. At least I get a little bit of exercise.
My drawers, mini-fridge and printer are all tucked under my bed, which gives me a ton of extra space in my room and makes things feel a little less cluttered. The bedside table is a bookshelf I got at the Firstweek IKEA trip and put together myself. Not too shabby. I also enjoy my cactus named Bertha, who is sitting on the windowsill.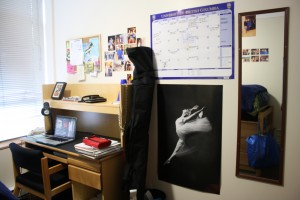 My desk.
This is where all the magic happens. And by "magic", I mean late-night cramming sessions and lots of Netflix-watching. The desk chair is surprisingly comfy, and even rocks back a little bit, so you don't have that almost-fall-backwards-to-your-death moment when you lean back in your chair just a little too far.
Other things to note: my skis just chilling, waiting for the snow to arrive, my over-cluttered bulletin board with mainly expired coupons and notices attached to it, and the large pile of homework on the corner of my desk that I am currently neglecting.
Storage space.
I'm beginning to notice I have far too much stuff. Check out the yoga mat, essential for any Vancouverite. I've been putting it to good use since I got here, and I'm planning on heading out to a $2 drop-in class later today courtesy of my UBC Yoga Club membership. Other key items include my Snuggie, large collection of sweatpants, Brita water filter and 16 pairs of shoes. And say hi to my friends Bret and Jermaine, who are hiding in the corner.