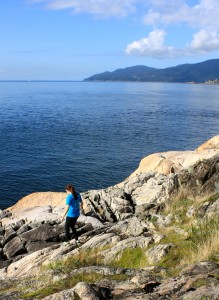 Braving the rocks to get down to the ocean for a photo op.
Whenever there's a sunny day in Vancouver, I feel so guilty when I stay indoors. So, this morning, I decided to take advantage of this amazing weather by going
hiking at Lighthouse Park in West Van
. I'm usually not very outdoorsy at all, but thanks to my seasoned hiker of an aunt, I managed to get through the 3 hour trek with only minor scrapes and a large bruise from when I fell off a particularly slippery log. I consider this to be a great accomplishment. Next stop, the
Grouse Grind
? (Maybe I'll wait for my bruise to heal, first…)
More pictures from Lighthouse Park:
There was actually a lighthouse at Lighthouse Park. I was impressed.
What my aunt suspected to be Paul Allen of Microsoft's boat, hanging out off the coast of one of Vancouver's surrounding islands
Say hi to UBC, that tiny little peninsula of land poking out from across the water.