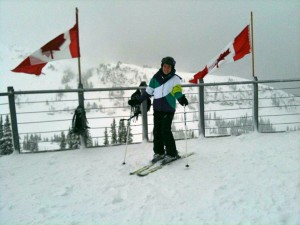 Sorry Disneyland, but I'm pretty sure Whistler is stealing the rights to your tagline.
I bought my Whistler season pass weeks ago (for a third of the regular price, oh how I love being a student), and started to count down the days until the start of the ski season. Unfortunately, thanks to schoolwork, I wasn't able to get up there on opening weekend. I waited impatiently, watching as everyone else posted "Whistler baby!" statuses and mobile uploaded pictures of themselves smiling at the top of the mountain. It was pure torture. But then,
on Sunday, the day finally came.
Erin and I woke up bright and early, got on the 6:15 Snowbus at Broadway and Maple, and headed up to the place where dreams come true. In spite of my 5:30 am wakeup call, a crazy long bus ride, torrential rain in the village, insane winds at the top of the mountain and getting stuck in snow up to my knees at one point, it was one of the most amazing days of skiing I can ever remember. As I headed down the mountain for the first time with my scarf covering my face, you wouldn't have known it, but I was wearing the biggest grin you could possibly imagine.