It's November, which means that all you grade 12s are getting ready to apply for university. It's hard to believe that a year ago, I was in the same position, narrowing down my university choices and trying to figure out which schools would receive an application.For those of you who are applying to UBC, you're faced with an extra challenge: which campus do you apply to? Well, luckily Cam, your amazing guide to all things UBC, is here to save the day by telling you a little bit about the differences between UBC's two campuses. Note: I am by no means an expert on UBCO, as I only spent a day there. These are just a few things that I noticed over the course of my visit.
Location: UBCO is located just outside Kelowna in the Okanagan Valley, about a 5 hour drive from Vancouver. Kelowna is a much smaller city than Vancouver, with a population of around 100,000. Coming from Vancouver, it was really strange being in a valley. I kept looking around for the ocean and mountains, trying to orient myself. The climate is a little bit colder in the interior as well (read: they actually get snow on a regular basis and react like normal people instead of shutting down the whole city).
Size: With a student population of only 5000, UBCO is tiny compared to UBCV, both in terms of students and square footage. I managed to walk from one end of the campus to the other in ten minutes. Here, that would barely get me to Totem. The buildings are also a lot more spread out, and it feels more open and less city-like than UBCV.
Buildings: As a newer school, all of the buildings at UBCO are really modern. No ancient stone chemistry buildings or Harry Potter rooms here, although their library had a really cool glass staircase.
Community: The one thing that caught me the most off-guard while visiting UBCO was how everyone seemed to know each other. That just doesn't happen at UBCV; I don't even know everyone in my residence building yet. Don't get me wrong, UBCV has a great community as well, just in a different way. UBCO has more of a high school vibe than Vancouver, in my opinion. The majority of people I spoke with came from small towns, and felt as though going to a huge school would have been too overwhelming for them. Also, apparently their sports games have better turnout than ours.
So, prospective students, if you're looking for a UBC education but a small-campus experience, UBCO might be worth checking out. But if you love the city life and energy of a big university, Vancouver is probably the way to go. Check out the UBC prospective students site, youbc, for more information on both of the campuses.
Cascades residence at UBCO
Staircase in the UBCO Library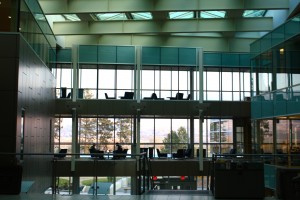 Inside the Engineering building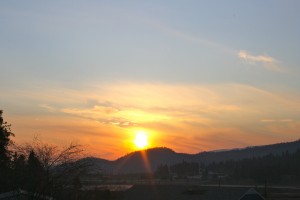 Sunset over the Okanagan Valley
Also check out the UBCO Lipdub: