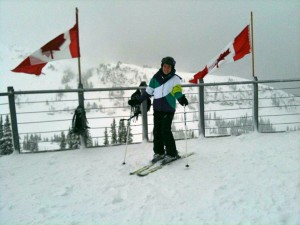 Sorry Disneyland, but I'm pretty sure Whistler is stealing the rights to your tagline.
I bought my Whistler season pass weeks ago (for a third of the regular price, oh how I love being a student), and started to count down the days until the start of the ski season. Unfortunately, thanks to schoolwork, I wasn't able to get up there on opening weekend. I waited impatiently, watching as everyone else posted "Whistler baby!" statuses and mobile uploaded pictures of themselves smiling at the top of the mountain. It was pure torture. But then,
on Sunday, the day finally came.
Erin and I woke up bright and early, got on the 6:15 Snowbus at Broadway and Maple, and headed up to the place where dreams come true. In spite of my 5:30 am wakeup call, a crazy long bus ride, torrential rain in the village, insane winds at the top of the mountain and getting stuck in snow up to my knees at one point, it was one of the most amazing days of skiing I can ever remember. As I headed down the mountain for the first time with my scarf covering my face, you wouldn't have known it, but I was wearing the biggest grin you could possibly imagine.
Skiing was a huge part of my life going up. A lot of my best memories as a kid consist of waking up early on a Saturday or Sunday morning, eating breakfast with my dad and sister, piling all our stuff into the station wagon and heading up north to the ski hills. I enjoyed every second of those ski trips, from singing along with the radio and playing multiple rounds of "I Spy" on the way there, to passing out from exhaustion and sleeping the whole way home. Most of the times I felt closest to my dad as a kid happened when we were sitting on a chairlift or when he was showing me how to turn properly. That's just another reason why skiing has always been so—for lack of a better word—magical to me.
Now, almost ten years later, I'm still in love with skiing. I love catching the first glimpse of the mountain as we're driving up. I love the 20-minute process of putting on all my ski gear. I love getting knocked off my feet when I'm getting onto the chairlift. I love that initial moment of take-off at the top of the hill. I love sliding to a stop and spraying powder everywhere. I love the feeling of accomplishment after going down a really tough run. I love frozen fingertips and toes, helmet hair and wind-bitten cheeks. I love warming up in the lodge, drinking hot chocolate by the fire and eating greasy burgers and fries. I love awkwardly clumping around in ski boots, and how amazing it feels when I finally get to take them off at the end of the day. I love racing down the hill, going so fast that in that moment, I feel like I'm invincible.
If I didn't love UBC so much, I'd seriously consider moving to Whistler and being a ski bum for the next four years (and possibly fall in love with a cute Australian in the process). Lately, especially with finals looming over my head, this option is starting to seem particularly appealing. But I'll make it through…and hopefully I'll be able to get up to Whistler again before heading home to Ontario.
Just a couple of Ontario girls on Whistler. This is way better than Blue Mountain and Chicopee.
Bonus: Here's a super cool video that they were playing on repeat in the lodge.
Mini Whistler!
I want a Whistler snowglobe in my room for Christmas, please. Can someone make that happen?