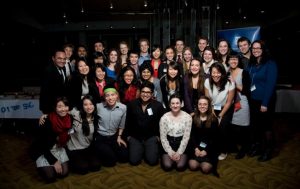 SLC 2012: That's a wrap

University lesson of the moment:
sometimes the most rewarding university experiences are the ones you never expected to have.
Flashback to September 2011. A slightly dorky, bespectacled first-year shows up on UBC campus, becomes addicted to Blue Chip cookies, and is instantly overwhelmed by the amount of involvement opportunities on campus. Late one night, while avoiding her biology readings, she spots a call for SLC Active Promotions Leaders on Twitter and decides to apply. For reasons unknown, the committee wants to hire her despite spluttering like an idiot for a few minutes during her interview about how she knows nothing about the conference ("but I'm a fast learner!").
Fast-forward to now, three days post-conference. Over the past few months, I've addressed 400-person lecture halls, logged a ton of hours in the Centre for Student Involvement, received more emails than I have in the last 18 years combined, handed out hundreds of rave cards, and put holes in a pair of flats from running around Buchanan on Saturday. Most importantly, I've been a part of a fantastic and supportive team composed of amazing and involved UBC students who have inspired me to make the most of my university experience. Also, we quote SNL videos and have dance parties together, which is pretty cool.
The moral of this long-winded blog post? If you see an opportunity, go for it, regardless of whether or not you think it'll work out. In the words of my homeboy Teddy Roosevelt: "It is hard to fail, but it is worse to never have tried to succeed." True story.
For those of you who didn't get to attend the SLC and are looking to get a taste of what it was like (or you're avoiding studying in Irving like I am), here's our opening video and the two keynotes' TED talks for your viewing pleasure.