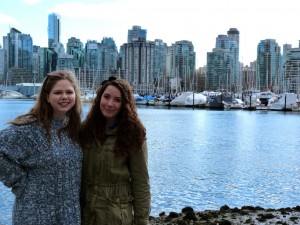 Picture it: the beginning of reading break. Everyone is looking forward to going home for a week of relaxation, partying and family time (oh, and maybe throw some studying in there somewhere). But not me. I watched as my friends packed their suitcases, made "home for reading break!" Facebook and Twitter updates, and set off to catch their planes, busses and ferries. One by one, the windows in KU started to darken, and the hallways slowly emptied as everyone left campus. T'was a sad time to be alone in residence. But, thankfully, as of last Saturday I had someone to keep me company. One of my absolute favourite people in the world, my friend Gabby, came all the way from the distant land of Brampton (which, unless you're from the GTA, you have probably never heard of before) to come sleep on my floor in Vancouver. She even made her own Twitter hashtag, "#BCadventure", that we dedicated to her visit. No joke. Search it.
So I got to play tour guide this week, showing Gabby around UBC and Vancouver, buying her first Blue Chip cookie, and taking her for slightly overpriced but delicious sushi at The Eatery. We went to Stanley Park, Science World, and Granville Island, (where I was somehow talked into purchasing a hammock), did shopping along Granville Street, and got to know Translink really, really well. Gabby got more than her share of the trademark Vancouver rain, and apparently also brought the Ontario climate here with her, seeing as it was snowing like crazy yesterday. (If you were away and don't believe me, see the picture later on in the post.) It was great to have company during what would have been a very lonely week in residence, and even though I didn't get any work done, having Gabby here made me feel like I was a little bit closer to home.
But now, it's time to go back to reality. I spent today slaving away in the library, trying to cram as much thermodynamics in my head as I possibly could and cheating shamelessly on my WebWork assignment (thank you, Wolfram Alpha). For those of you who are looking down on me, just take in the solution to this problem: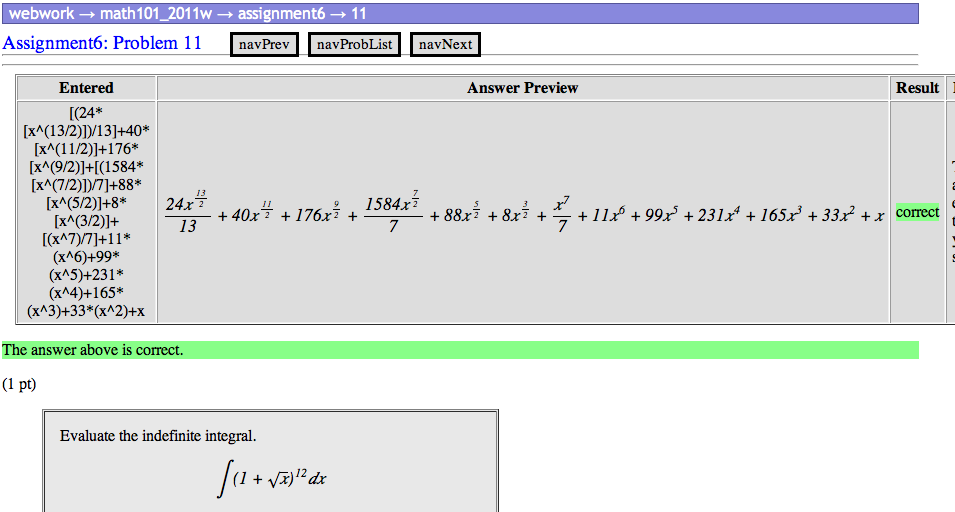 Yep. And this is why I'm never taking math again.
Bad science pun of the day: Why did the chemistry student break down after his thermodynamics test? Because he just couldn't stand the heat!
PS: In case you're wondering what the title of this post is referring to, Gabby and I for some reason decided that we deserved our own Real World season while on our grad trip to Wasaga Beach. Best and craziest weekend of my life.
More pictures from the week: