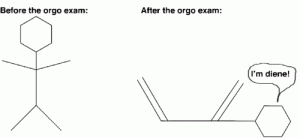 Last night I had the dreaded CHEM 233 midterm. If you're in science at UBC, you have probably hears the rumours about this evil course. So what did I do to prepare? Here's a rundown of my week leading up to the midterm:
5 days before: Did some textbook problems at Blenz in between Longboat races. Blenz Belgian milk hot chocolate helps soothe the pain.
4 days before: Initiated hardcore study mode. Killed a small forest with the amount of paper I used for practice problems. Completed online acid/base assignment. Aced it.
3 days before: Switched my Monday workout to the morning so I could use my midday break for work. Studied in the Harry Potter room while the presidents of UBC looked down on me in approval. Had a zombie apocalypse social with the rest of the Totem RAs in the evening.
48 hours before: Took a study break to watch talented Totem residents rock the Totem Coffee House. Highlights included QLXN's Liam playing the hits of the 90s on the bassoon.
36 hours before: Visited my chem prof's office hours. Spent so much time in the Law Library that people are beginning to wonder if I live there. Bernouilli's Bagels and coffee are my only forms of sustenance.
24 hours before: Study session in Swing with fellow science student and generally awesome dude, Aaron. Spent most of the time jamming to Kanye and speaking to each other in German accents.
12 hours before: Crammed for a forgotten biology unit test while shoveling eggs into my mouth at breakfast.
8 hours before: Did some practice midterms. Reassured myself that I do, in fact, kind of know what I'm doing.
5 hours before: Chemistry class time. Tried to ignore the looks of intense panic on my classmates' faces.
3 hours before: Realized that I am incapable of cramming any more knowledge into my brain. Went running up and down the Wreck Beach stairs instead.
90 minutes before: Headed to the Totem caf with fellow RAs and CHEM 233 students. Ate a grilled cheese sandwich and sweet potato soup (comfort food is a must). Made science puns to lighten the mood.
30 minutes before: Began the trek to the Chemistry building. Listened to pre-exam pump up music ("Til I Collapse" by Eminem always gets me in the zone).
10 minutes before: Descended into the toasty warm dungeon of CHEM B150. Found a spot in the middle of the room right next to Melinda for moral support.
5 minutes before: Started to bubble in my information on the Scantron. Watched the clock creep closer to 7 PM. Tried not to be freaked out by how thick the midterm felt.
1 minute before: Deep breath. Let's do this.
After: Breathed a sigh of relief. Shook off the feelings that it didn't go as well as I'd hoped. Headed to a friend's place in Dunbar for celebratory margaritas.
Could I have done more to prepare? Definitely. But while I may not have gotten a perfect score, I still had a pretty good week. I managed to exercise, fulfill my extracurricular responsibilities, spend time with friends, and paddle around Jericho Beach while still studying my butt off. Balance is the key to making the most out of university (although we'll see if I am singing a different tune once I get my score back). Happy studying!