Chamberlin puts the concept of home in parallel with the relationship between imagination and reality and how both are human perceptions that tend to be socially constructed. So I found the explanation of "home" in something he could appreciate – a fantasy story.
Bilbo describes home as where his books are while the dwarves are trying to reclaim the mountain that was taken from them forcefully by a dragon. Bilbo admits that while he belongs in a peaceful home reading his books from his armchair, he has left that home in order to help the dwarves regain theirs. It's easy to relate the two stories; The Hobbit and that of the Indigenous peoples around the globe (who have more than a single dragon to conquer in order to persevere). This story is both real and imaginary, like Chamberlin's examination in If This is Your Land, Where Are Your Stories?, however Bilbo's concept of 'home' translates easily into our world.
'Home' is a figurative idea that we are taught to believe in as well as a reality we experience (Chamberlin 78). Home is where the heart is; where we curl up with a good book; where we lay our heads; where our ancestors lived; where our family is; where you keep your underwear (according to a 4 year old I know). I can relate to all of these as I'm sure you can as well. As Chamberlin consistently reiterates, the stories that make up our individual lives as well as our cultural lives are necessary and will connect us. The internet has provided a way for millions of stories to be shared from a public copy of The Survivors Speak, which reports stories of the survivors of Residential Schools who can now know for sure that Canadians know the truth, to the stories of immigrants who arrived at Pier 21 who faced harsh conditions and risked everything from their homeland to move here. All of these stories share a similar tone of distress and with these stories empathy can be gained and show the interconnection between what has become "Us" and "Them".
I find that the common connection between the notions of 'home' across all cultures is that it is a place of belonging. Belonging is at the foundation of Canada for both those who were always here and those who have come here and from this similarity common ground can (almost literally) be achieved.
However, the differences between culturally practices have prevented this common ground to be reached and instead consequences such as contradictory claims on land and home have emerged. The immigrants were told 'come to Canada, there's plenty of land for you to own' which for many was a dream come true. Advertisements presented a land of opportunity, not conflict. Many immigrants wouldn't have realized their impact on the Indigenous peoples because in the same way that Chamberlin is told he can't eat peas with a knife, the settlers didn't understand land ownership in any terms other than papers and laws. To them this new land was the home they had worked so hard for and the Indigenous weren't the owners. On the other side, the Indigenous peoples had a different notion of how one owns land. Through these differences conflicts surrounding land occurred despite the consistent notion that the land is 'home' to both groups.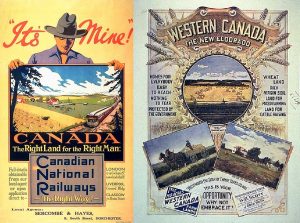 Chamberlin claims that by changing the claim to the land it wouldn't necessarily mean having anyone move or giving any homes up, but rather providing an appropriate association between Canada's land and her Indigenous peoples in the same way we associate the word home with both a reality and an idea. In fantasy terms, this means allowing the dwarves claim on the mountain and internationally recognizing it, but nationally sharing in the profits.
Works Cited
Chamberlin, J. Edward. If This Is Your Land Where Are Your Stories? Toronto: Vintage Canada, 2003. Print.
The Hobbit: An Unexpected Journey. Dir. Peter Jackson. Perf. Martin Freeman, Ian McKellen, Richard Armitage. New Line Cinema, Metro-Goldwyn-Mayer (MGM), 2012. Online.
"Culture Trunks." Pier 21. Canadian Museum of Immigration: Pier 21, 2016. Web. 20 May 2016.