COGS 300 Designing and Understanding Cognitive Systems
Lecture Tuesday and Thursdays @ 11h00–12h30 in ORCH 3074
Lab L01 Monday @ 14h00–16h00 in IONA B151
Lab L02 Tuesday @ 09h00–11h00 in IONA B15
Lab L03 Wednesday @ 10h00–12h00 in IONA B151
---
Teaching team
Instructor Paul H.B.
Email pbucci@cs.ubc.ca
Office hours: by appointment at calendly.com/pbucci. Still debugging, email me if it seems weird.
Section: Tuesday/Thursday Lecture
Teaching Assistant Martín
Email: cogs.300@ubc.ca
Office hours: Monday 16h00–17h00, Friday 13h30–14h30 in IONA B151 or by appointment.
Section: Monday Lab
Teaching Assistant Zoe
Email: cogs.300@ubc.ca
Office hours: Tuesday 13h00–14h00 in IONA B151 or by appointment.
Section: Tuesday Lab
Teaching Assistant Edris
Email: cogs.300@ubc.ca
Office hours: Wednesday 13h00–14h00 in IONA B151 or by appointment.
Section: Tuesday/Thursday Lecture
Teaching Assistant Shaaban
Email: cogs.300@ubc.ca
Office hours: Thursday 13h00–14h00 in IONA B151 or by appointment.
Section: Wednesday Lab
Communication and Office hours
We will primarily be using Discord for class communication (https://discord.com/invite/ZQJj569yh9). Canvas will only be used to handin/provide feedback on assessments. Please contact your TAs over Discord to make an appointment for office hours, or show up at the scheduled times. Note: Paul does not see the #cogs-300 channel on Discord. You can also contact the TAs at cogs.300@ubc.ca (Paul also doesn't see this email).
---
Class structure
11h00–11h10: Mindful exercise
Something to get our bodies/brains focused on the topic of the day.
11h10–11h30: Lecture
Topic of the day is delivered through notes and worked examples.
11h30–11h50: Group activity
Activity is introduced and groups work through the examples.
11h50–12h10: Takeup/lecture
Discussion where group members share insights. Lecture if needed.
12h10–12h20: Reflection
Individual writing on a question for the next class and/or lab.
---
Topics
The class is organized into three modules with four topics each. Each topic will have a technical component that will be used as a metaphor for the human cognitive experience. We invite you to practice and experience these connections during labs.
Module 1: Human and Robot Bodies
Sensation: How do robots and humans sense the world?
Actuation: How do robots and humans move their bodies?
Control: How do you communicate between parts of a robot or human body?
Synchronization: How can we synchronize components of a body or system?
Module 2: Emergent Behaviour
Automata:  How can complex behaviours emerge from simple rules?
Swarms:  How can automata work together to make decisions emerge?
Utility:  How do we guide swarm units in adapting their decision strategies?
Distribution:  What is the difference between distributed and "unified" systems?
Module 3: Reasoning
Detection: How do robots capture patterns of data to detect objects?
Representation: How can machines make decisions about concepts?
Classification: How can machines assign a label to complex data?
Neural networks: How can we gradually learn complex data?
---
Marking structure – NOTE UPDATE
Self-assessments
12 labs @ 1% per lab = 12%
12 topics @ 2% per topic (~1%/lecture) = 24%
12 weeks of readings @ 1% per week = 12%
→ TODO: Participate in labs/lectures/readings
→ HANDIN: 12 self-assessment pages @ 4% per page x 1 page per topic = 48%
UPDATE: due to Faculty of Science regulations that mandate a sit-down final exam, this portion will be scaled down to 42%.
Instructor assessments
1 sketchbook share @ 4% for a single meeting = 04%
→TODO: Schedule 1 sketchbook share with instructional staff, bring your sketchbook along
12 topics x 4 learning goals @ 1% for each learning goal = 48%
→ HANDIN: 3 assessments during term and take-home final assessment
Final exam @ 6% = 06%
TOTAL = 100%
You will need to maintain a paper sketchbook. The exact format is up to you, but reflections where you write and draw on paper will be part of every lecture and lab. You'll be expected to share your sketchbook with a member of the instruction staff once during the term.
Labs, lectures and readings are self-assessed and verified through demonstrated participation in lecture/Piazza discussions and sketchbook reflections. The self-assessments will be recorded in your sketchbook. The self-assessment process is outlined below. We reserve the right to modify any self-assessment as needed.
Learning goals are divided into the following categories of increasing difficulty. You must demonstrate completeness for one of each kind of learning goal per topic to get full marks:
Knowledge: Recalling information given in lecture and practiced during labs
Problem solving: Solving a problem similar to the in-class activity or lab assignment
Creativity: Applying your knowledge to analyze or design real life solutions
Critique: Challenging your knowledge with readings, discussion, or other sources
Learning goal assessments will be through three cumulative take-home "midterm" assignments and one cumulative final exam. The assessment process is outlined below.
Due to Faculty of Science requirements, you must pass the final to pass the course. It will be a sit-down final. Date and location TBD.
---
Sketchbook and Self-assessment
Good design comes from an active engagement with the creative process. Therefore, we are asking you to reflect in your sketchbook during class time and while doing your readings. Once in the term, you will be asked to schedule a meeting with a member of the instructional staff to share your sketchbook for 4% of your grade. This meeting will simply be a discussion of the reflections you have accumulated in your sketchbook, not an evaluation of the sketchbook itself. Your sketchbook is your own and you are encouraged to use it in whatever manner you choose. The format of your notes is open: you can draw, write, cut up printed copies of the readings, attach memes, whatever. The important part is that you develop your own understanding of your own creativity.
The only exception is for self-assessment pages. At the end of term, you will hand in your self-assessment pages. For each topic, create a page in your sketchbook where you give yourself a letter grade (between A and F) for your participation in each activity for that topic and include a short reflective note on your participation. The format should be as follows: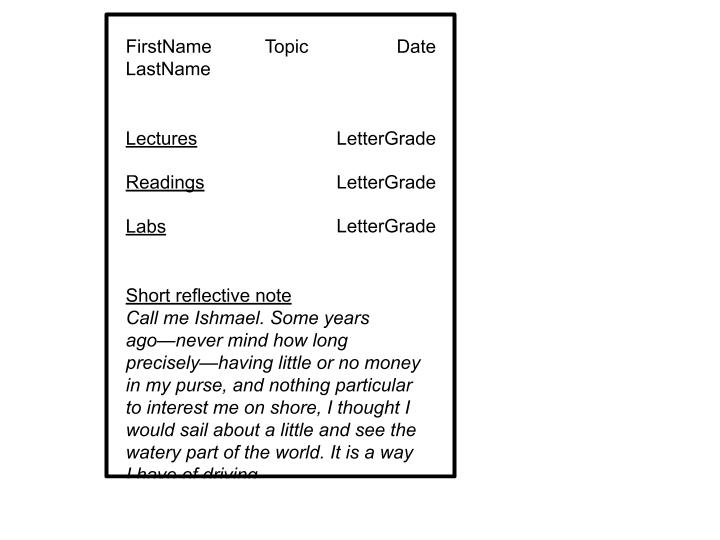 Since self-assessment is likely going to be understood differently for each person, the letter grade does not correspond directly to a percentage grade. We will review the self-assessment and compare with our understanding of your participation in lectures, labs, and Piazza discussions and assign a percentage grade. The point of the exercise is to develop your own skill in understanding yourself, so be honest with yourself. Most likely, we will be giving you more credit than you give yourself.
So what does participation mean? Generally, it means fully and honestly engaging with the content by discussing it with your peers and reflecting on it in your own time. However, if you are finding it difficult to engage with the content, it can also mean writing a reflection on your own learning process and what you need to feel confident in the material.
---
Assessments
Title (Release date and due date tentative)
Assessment 1: Human and Robot Bodies – Release: Sep 27, Due: Oct 13
Assessment 2: Emergent Behaviour – Release: Oct 26, Due: Nov 15
Assessment 3: Reasoning – Release: Nov 23, Due: Dec 08
You are encouraged to work on assessments in groups and to use whatever resources you can find. Design is best practiced by attempting to replicate the masters, and you'll learn much quicker in a group. However, your work should be your own: your own words, your own drawings, your own ideas. If you do decide to replicate an existing idea or collaborate on a design solution in a group, take notes about the original work or group design solution, then go away and attempt the solution on your own.
Learning goals are marked either complete (1%), needs improvement (0.5%) or incomplete (0%). You may reattempt a previous assessment question at the next assessment deadline as long as your new attempt is significantly different. Your mark will never go down as a result of a resubmission.
You are encouraged to hand in assessments early. We will attempt to return your first attempt at an assessment quickly, but resubmissions will be marked at a lower priority. Late submissions will be marked at the lowest priority.
Final exam
The final exam will be cumulative and offer you a final chance to demonstrate learning goal completion. If you wish, you may only answer the questions for learning goals you have not yet completed. Again, your mark can only be improved. The format is to be determined.
---
COVID Classroom Regulations
Masks: Masks are required for all indoor classes, as per the BC Public Health Officer orders. For our in-person meetings in this class, it is important that all of us feel as comfortable as possible engaging in class activities while sharing an indoor space. For the purposes of this order, the term "masks" refers to medical and non-medical masks that cover our noses and mouths.  Masks are a primary tool to make it harder for Covid-19 to find a new host.  You will need to wear a medical or non-medical mask for the duration of our class meetings, for your own protection, and the safety and comfort of everyone else in the class. You may be asked to remove your mask briefly for an ID check for an exam, but otherwise, your mask should cover your nose and mouth. Please do not eat in class. If you need to drink water/coffee/tea/etc, please keep your mask on between sips. Please note that there are some people who cannot wear a mask. These individuals are equally welcome in our class.
I have been instructed to ask people without a mask to leave the classroom. If you cannot wear a mask, please talk to me ahead of time. If you see someone not wearing a mask and also I am not instructing them to leave, assume that they have been given an accommodation.
Vaccination: If you have not yet had a chance to get vaccinated against Covid-19, vaccines are available to you, free, and on campus: http://www.vch.ca/covid-19/covid-19-vaccine. The higher the rate of vaccination in our community overall, the lower the chance of spreading this virus. You are an important part of the UBC community. Please arrange to get vaccinated if you have not already done so.
Seating in class: To reduce the risk of Covid transmission, please sit in a consistent area of the classroom each day with your lab group if possible. This will minimize your contacts and will still allow for the pedagogical methods planned for this class to help your learning, which will require spatial proximity.
---
Attendance and accommodations 
Design and embodied cognition are largely practice-based disciplines, and doing the day's practice is much, much easier in a group. But your health and wellbeing should come first. If you do need to miss a lecture, you are expected to complete the day's practice on your own time once you have recovered from your illness (or job interview, childcare, family crisis, moving day, fatigue, etc.). For missing one or two lectures, there is no need to inform a member of the instruction staff, simply note in your sketchbook self-assessment page that you have decided to practice on your own for that day. Make an agreement with your lab group members to help each other catch up when needed. If you need to miss many lectures, please email a member of the instruction staff to discuss your plan to complete the practice that you will miss.
Since labs are collaborative and depend on everyone's expertise, you are expected to attend every lab to support your group unless you are sick. If you must miss, you are expected to make a plan to make up work in agreement with your group members. Let your group know first that you are unable to attend and discuss your plan for making up missed work, and then let the TAs know your group's agreed-upon plan. We don't need to approve the plan, just be informed of it. This is in lieu of a Dr's note or any other documentation that is often used to excuse people from attending class–please don't send us your Dr's notes or other documents unless required by the provincial health order. Frankly, it's better for all of us if you do not share your private medical (or other) information. We wish you luck and speedy recovery from your illness (or job interview, childcare, family crisis, moving day, fatigue, etc.).
If you're sick, it's important that you stay home – no matter what you think you may be sick with (e.g., cold, flu, other). 
A daily self-health assessment is required before attending campus. Every day, before coming to class, complete the self-assessment for Covid symptoms using this tool: https://bc.thrive.health/covid19/en. Do not come to class if you have Covid symptoms, have recently tested positive for Covid, or are required to quarantine. You can check this website to find out if you should self-isolate or self-monitor: http://www.bccdc.ca/health-info/diseases-conditions/covid-19/self-isolation#Who.
Your precautions will help reduce risk and keep everyone safer. In this class, the marking scheme is intended to provide flexibility so that you can prioritize your health and still be able to succeed.
If you are sick on a final exam day, do not attend the exam. You must apply for deferred standing (an academic concession) through Science Advising no later than 48 hours after the missed final exam/assignment. Students who are granted deferred standing write the final exam/assignment at a later date. Learn more and find the application online: https://science.ubc.ca/students/advising/concession
For additional information about academic concessions, see the UBC policy here: http://www.calendar.ubc.ca/vancouver/index.cfm?tree=3,329,0,0
But I am going to be trying my best to make this not a problem at all. TBD on how that will work exactly and do let me know if you have ideas. Aiming for a take-home final.
In summary:
If you're sick or required to self-isolate, stay home. We'll work it out.
If you're missing lab, make a plan with your group members, then let us know that plan.
If you're missing lecture, complete the practice of the day on your own.
Make an agreement with your group members about how to catch up on lecture content
If you're missing a lot of anything, let us know and we'll work out a plan for you.
---
Instructor health
If I (the instructor) am sick: I will do my best to stay well, but if I am ill, develop Covid symptoms, or test positive for Covid, then I will not come to class.  If that happens, here's what you can expect:
My colleague will substitute (to be determined exactly who)
One of your TAs who has been training to teach will substitute
If I am well enough to teach, but am taking precautions to avoid infecting others, we may have a synchronous online session or two. If this happens, you will receive an announcement on Piazza telling you how to join the class (will also be sent to your email via Piazza, so ensure it does not get routed to spam). You can anticipate that this would very likely be a last minute email. Our classroom will still be available for you to sit and attend an online session, in this (hopefully rare) instance.
---
Labs and Lectures