In the wake of IBM supercomputer WATSON's official thumping of Jeopardy champions Ken Jennings and Brad Rutter, I think we humans are perhaps in need of a little ego boost.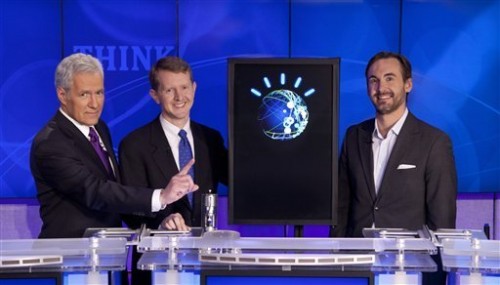 Computers may be able to beat their most expert human counterparts at chess and trivia, but when it comes to practical problem solving and spatial reasoning, the human brain remains the champion.
An emerging idea for solving difficult problems is that of crowd-sourcing, which involves tapping into the inherent 'wisdom' of human networks and expertise.  Essentially, complex problems are broken into small, manageable chunks that a group of interested people can chip away at.
A recent example of this type of collaboration is being used to predict protein structures based on sequence data, and do it better than any computer.  It's a program called Foldit, and it was developed by Seth Cooper and David Baker from the University of Washington.  The premise is simple:  a computer game that allows non-experts with no biochemical training to guess the shape that a given protein will fold into.  Players are awarded points based on the stability of their protein, and are quickly and intuitively trained to recognize and arrange the side chains of the amino acids into alpha-helices and beta-sheets, all without necessarily knowing what these things even are.
After an acceptably large community of players was established (57,000 to date), a competition was staged between human players of Foldit and the most advanced computer algorithms that predict protein structures.  So how did a crowd of casual gamers do when they took on the computers?  Quite well, actually.  Out of 10 unknown protein structures, the human problem solvers bettered the computers 5-3, and tied twice.  In addition to this, a number potential protein structures have been added to research databases, and players are even being asked to design novel proteins that could help treat various diseases, from HIV to Alzheimer's.  Very exciting stuff!
I hope to see this type of game-with-a-purpose become more popular.  In my own experience, I've mostly given up on computer and video games because they can be such time wasters.  I found the final sentence of the Nature article about Foldit to be particularly humorous, if not true:
"Our results indicate that scientific advancement is possible if even a small fraction of the energy that goes into playing computer games can be channelled into scientific discovery."
I think that in the future we will take a less adversarial (if friendly) approach to human and machine intelligence, and the lines between the two will begin to blur.  Games like Foldit may well be one of the first steps into this brave new world.
Happy folding!