There are a lot of misconceptions around emergency contraception methods in our society, especially around Plan B. Plan B is an emergency contraceptive pill based on levonorgestre (a synthetic steroid hormone that is used in some birth control pills). The reason behind the misconceptions may be for a variety of reasons, such as a lack of education present about it or bias when information about it is presented. To be honest, I myself was one of the people who was very misinformed about Plan B in terms of how exactly it worked and what the risks it presented were.
As the title of this blog post suggests, one of the main questions people have regarding Plan B is whether it is safe, and for what ages is it safe? This is especially a hot topic because there is a vast debate on whether or not to make Plan B accessible for girls of all ages without a prescription in the United States of America. In Canada, Plan B is available on pharmacy shelves without a prescription in all provinces except for Quebec.
In terms of the risks associated with taking Plan B, a study comparing two types of emergency contraceptive found that for pills based on levonorgestre, the three most common side effects were headaches, painful menstruation, and nausea  for the women sampled. The bottom line from this study and further studies on the matter is that there seems to be almost no long-term or serious side effects associated with taking Plan B for most women of all ages.
After researching the risks associated with Plan B, the second thing that I was most curious about was exactly how Plan B works. I had heard people call Plan B an "abortion pill" before and this was one of the main reasons behind my misconceptions about it. Plan B however is not an "abortion pill". Moreover, Plan B works before fertilization. It does so by either briefly stopping the release of an egg from the ovary or  by preventing a fertilized egg from attaching to the uterus. The data on Plan B  by the U.S Food and Drug Administration (FDA) states that Plan B must be taken "orally as soon as possible within 72 hours of unprotected intercourse."
The youtube video shown below is a great summary of the main ideas mentioned in this blog post about Plan B. I think it is great that it has over 1.6 million views because it shows that people are interested in this information and that it is indeed making its way out to the public.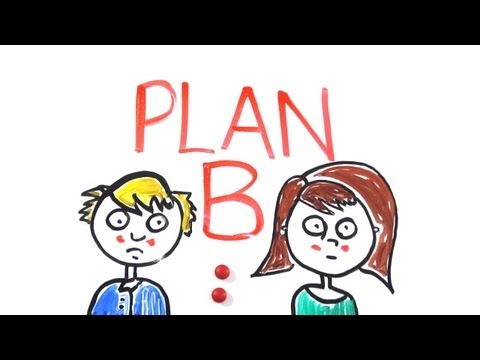 Credit:  AsapSCIENCE on Youtube
On a final note, it is important to recognize that Plan B in no way prevents against the transmission of sexually transmitted diseases. Not only that, Plan B is not a substitute for other forms of routine birth control and should only be taken in emergency situations.