Most people have heard of greenhouse gasses, but what exactly are they doing to the earth, and how can we reduce our emissions?
Greenhouse gasses are compounds such as water vapour, carbon dioxide, methane, and ozone. They float in the air and trap longwave radiation coming from the sun in our atmosphere. The greenhouse gasses let the heat from the sun enter the atmosphere, but do not let the heat escape. This warms the surface of the earth, and leads to global warming; ultimately, forcing climate change.
Carbon dioxide, one of the most harmful greenhouse gasses, is introduced into the atmosphere naturally through volcanoes and continental drift, but recently, humans have dangerously increased the amount of carbon dioxide in the atmosphere. Human activity emits 60 times more carbon dioxide every year than volcanoes! This has detrimental consequences for the environment, and for humans.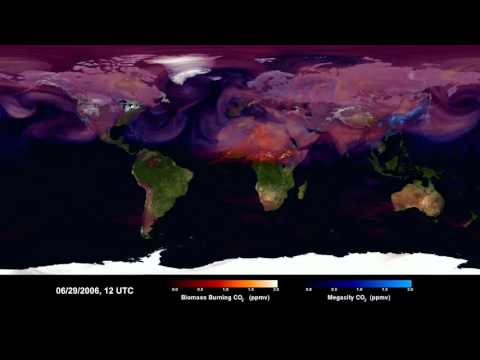 Video: Sci Tech. The animation above shows the carbon dioxide emitted by fires and mega-cities in five days. It allows us to better understand how carbon dioxide behaves in our atmosphere, and shows us how prevalent it is.
An increase in greenhouse gasses will increase global warming; this will eventually melt glaciers, flood coastal cities, increase storm intensity, and even intensify diseases such as malaria and dengue fever!
Do these effects scare you? They should! But there are ways that you can decrease your carbon consumption, and lead the way to a cooler future!
Some ways that you can reduce your carbon footprint are:
Use public transportation.
Recycle and reuse.
Reduce the amount of plastic you use.
Reduce the amount of meat you consume.
Use renewable energy; some alternatives to fossil fuels are wind, solar, and geothermal energy.
Consider making some easy changes to keep our planet clean and balanced! If everyone took some small steps to reduce their carbon footprint, then overall we could make a big difference!