Coming off my last post and in my search for financial support for Indigenous girls in post-secondary education, I came across an Indigenous-led registered charity called Indspire.  In addition to it dispersing financial aid, it also provides an online resource for teachers with a variety of lesson plans, online webinars, in-class seminars and links to upcoming events.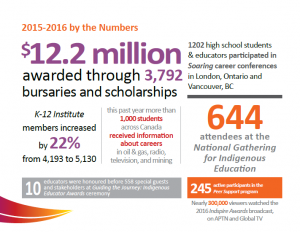 In my research so far about the barriers facing Indigenous women in STEAM and tech-related fields, two trends are emerging- funding and teacher education.  Funding is one way to support Indigenous students becoming successful in education, but another large indicator for success is the education of teachers and their knowledge and understanding of how to deliver curriculum and better help support Indigenous students.  There are two upcoming conferences that will have Indigenous students and Indigenous educators sharing their experiences and practices of what works and providing teachers with some of this knowledge and understanding about Indigenous needs in education.
The first event is coming up this Oct 19th at Simon Fraser University where a panel of 3 Laureates (Dakota Brant- First Nations, Maatalii Okalik- Inuit, and Gabrielle Fayant- Metis), will "discuss issues such as being the first person in the family to go to university or being the only Indigenous student in the class, and how schools can better support Indigenous students."  Registration is still open. 
Another upcoming conference is the 23rd Annual Aboriginal Education Conference "Renewing our Relationship" put on by the First Nations Education Steering Committee and happening in Vancouver Nov 30- Dec 1-2 at the Westin Bayshore.  As stated on their website this conference will be:
"Showcasing innovative curriculum, inspiring people and excellent networking opportunities, the First Nations Education Steering Committee (FNESC) Annual Aboriginal Education Conference draws over 800 educators each year. Our conference theme, Renewing Our Relationship, will explore the role of education in reconciliation as part of the ongoing conversations about Canada's 150th celebrations and planning for the future of First Nations education in British Columbia. This will include examining how we can work together to transform our relationships in order to advance quality First Nations education.
There are a variety of workshops to choose from and several keynote speakers,  including one of the authors from our course readings- Dr. Jan Hare who is the Associate Dean for Indigenous Education (UBC).