For many people who speak indigenous languages across the globe, this is not simply a "what if" question.  According to National Geographic, one language goes extinct every 14 days, and nearly half of the roughly 7,000 languages currently spoken will disappear in the coming decades. This is a particularly challenging problem in the case of languages which have only an oral tradition, no books or even an alphabet. The issue of language extinction in Canada is one that the Truth and Reconciliation Commission examined as part of its mandate. The report released in late 2015 includes a number of call-to-action recommendations related to preserving indigenous languages including that the federal government provides sufficient funds for aboriginal language revitalization and preservation and that the work should reflect the full range of aboriginal languages and be managed by Aboriginal people and communities.
Fortunately, the process of preserving several Canadian aboriginal languages is already underway. One such venture is taking place in the Ojibwe communities of the Rainy River district in northwestern Ontario. It's a collaboration between the Seven Generations Education Institute, a 30-year-old educational entity governed by the 10 First Nations in the Fort Frances and Kenora area, and Say It First,  a company that uses "technology and community participation to modernize, expand, revitalize and localize aboriginal languages in Canada, and to help our First Nations, Métis, and Inuit communities produce more language speakers tomorrow, that exist today." Mike Parkhill, founder of Say It First and Brent Tookenay have collaborated to create a series of children's books where the cover image can be captured by an iPhone to trigger a link to a spoken version of the story: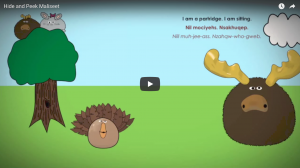 It's this link between new technology and ancestral knowledge that Parkhill and Tookenay believe is key to the success of this program and another way technology is getting used to bridge the gap to help preserve Aboriginal culture.