Thinking about the recent initiatives set forth by the BC government to recruit and train British Columbians in skilled trades, I wondered if there was an for technology training specifically for Indigenous peoples.  It was here where I found out about the 2.2 Million invested into Indigenous skills training for the tech sector. 
The Bridging to Technology program was created by the First Nations Technology Council and when reviewing the team making up the council I was pleasantly surprised to see a team full of women.  However, I was disappointed to find the board of directors consisted of only men.  This was a stark reminder of the gender gap in authoritative roles that women of all ethnicities face.
As the CNET article highlights, the tech industry is already male-dominated: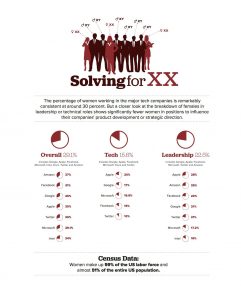 And this is for white women. The statistics get worse if you're a woman of a minority.  According to a study done by Michelmore & Sassler (2016), "Black women, Latina women, and Indigenous women especially, earn less than white and Asian American women" (Rao & Lunau, 2017).
The dominance of men over women in higher paid, higher power positions is a trend in most sectors but is especially pronounced in the tech sector.  As Blanche (2016) highlights "The problem is when diversity programs focus on "women" as a whole, they often fall into the trap of prioritizing the majority: White Women".
If we truly want to make our tech industry more diverse, we need to analyze the barriers that Indigenous women face specifically.  Grants for an example are a start, but while I did find technology grants for women, I was unable to find grants dedicated specifically to Indigenous women
References
Blanche, A. (2016, December 20). Diversity in tech too often means 'hiring white women.' We need to move beyond that. Retrieved October 15, 2017, from https://www.recode.net/2016/12/20/14013610/gender-diversity-women-race-age-geography-initiative
Michelmore, K. & Sassler, S. (2016). Explaining the Gender Wage Gap in STEM: Does Field Sex Composition Matter?RSF: The Russell Sage Foundation Journal of the Social Sciences 2(4), 194-215. Russell Sage Foundation. Retrieved October 15, 2017, from Project MUSE database.
Rao, A., & Lunau, K. (2017, April 04). You Can't Close the Gender Gap in Science and Tech Without Equal Pay. Retrieved October 16, 2017, from https://motherboard.vice.com/en_us/article/4xeevp/stem-science-technology-women-pay-gap-equal-pay-day