Victoria school district Aboriginal cultural facilitator honoured with music award
Anyone who knows Sarah Rhude knows that receiving an award is not something she sought or yearned after.  I talked to my friend and colleague, Jenn Treble, the trouble maker who nominated Sarah, as she was photocopying endless sheets of music for her students, last week.  Jenn informed me that the photo of Sarah was snapped after tears decided to run down her face, due to the emotional wave that the ceremony impacted her with.
Three years ago, Jenn decided that she wanted to introduce Indigenous music into her practice and she asked for Sarah's help.  Baby step after baby step, since then, has now led to SD61's permission to the teaching of three Indigenous songs, that were created for the purpose of the project.   All students in Jenn's band classes, Grades 9 through 12, learn, practice and perform these songs.
Last year, a Grade 12 Metis student asked Jenn, in front of the class, why she was "singling out" Indigenous culture, when there were so many other cultures represented in class. Was he embarrassed? Had he been "colonized to the point of no return"?  I am not sure, although I know the student extremely well– he was one of my top math and physics students! It was a non-Indigenous Grade 9 student who spoke up and said, "Because we do not live on Scottish territory.  If we did live in Scotland, we would undoubtedly learn about Scottish music.  But we live on Lekwungen territory… that is why."
Enough said.
Why Gord Downie's 'beautiful' work can't stand alone
My guess is that this will not be the only Hip post this week. I am a Hip fan, although I "only" saw three live shows. Good friends of mine saw well over 20 shows and their now deceased cat was named Gordie.
There were many online pieces to choose from over the week, but I went with this interview from CBC's, Q, recorded on December 7, 2016. The subject was Jarrett Martineau, and Indigenous art scholar and creator of the Indigenous music platform, Revolutions Per Minute. Martineau acknowledges the significance of Downie's work, and simultaneously underscores the importance of continuing with activism surrounding language preservation and authentic forms of reconciliation.  Marineau also mentions how celebrities can bring "different communities together by having them all meet in the middle."   #ThirdSpace
In Canada, white supremacy is the law of the land
You cannot simply reform your racist state by enacting a few more programs and delivering a few more services. It is embedded in the very nature of Canada and requires a completely new deal. But first, to truly understand where we have landed today, we have to continue retracing a bit further along the sad road that brought us to this place. ~Arthur Manuel
Described by some as the Nelson Mandela of Indigenous rights in Canada, Arthur Manuel passed away earlier this year.  The above quote was taken from an excerpt from his recently released book he co-authored with Grand Chief Ronald Derrickson, "The Reconciliation Manifesto, Recovering The Land, Rebuilding The Economy."
Those of us who appreciate history will appreciate this piece. We have touched on some of this history in our ETEC 521 journey, however, Manuel's perspective offers a dose of reality, that lacks the sweetener.
For what it is worth, when I visited the Human Rights Museum in Winnipeg last summer, I was impressed with the ample amount of "Canada's dirty laundry" that was put out for public viewing. This piece does not attempt to hide our soiled knickers, either.  If the rest of the book is like this excerpt, it will be one "kick ass" manifesto!
Non-Indigenous B.C. artist defends work despite calls for authenticity
If you have been monitoring my posts, I listen to a lot of CBC. Perhaps I should be branching out more with my searches, however, when I hear or read something that is recent and relevant, it really resonates with me, as it allows me to think about historical relevance and how it influences our now.
This column, written by the new host of CBC's Reconcile This, Angela Sterritt, highlights issues of cultural appropriation and intellectual property rights. The artist in question is from England, and has been "blending" Indigenous art forms with non-Indigenous. The article points out that even though the artist is well-meaning, she is indirectly taking money from Indigenous communities that rely on sales of authentic crafts and artwork. An interviewee continues by saying that "the art market is only so big and we are the most vulnerable demographic, so it kind of stings a bit."
The History of  Dia de Los Muertos & Why You Shouldn't Appropriate It
"Dear white people, … You arrived at the Dia de los Muertos ceremony shipwrecked, a refugee from a culture that suppresses grief, hides death, … celebrates it only in the most morbid ways — horror movies, violent television — death is dehumanized, without loving connection, without ceremony. You arrived at Dia de los Muertos like a Pilgrim, starving, … and the Indigenous ceremonies fed you … [And] like Pilgrims you have begun to take over, to gentrify and colonize this holiday for yourselves." ~Aya de Leon
Indigenous peoples worldwide have been fighting off the ramifications of cultural appropriation. This article is a short, history of the cultural relevance of the holiday and why white folks need to stop morphing it into a pathetic excuse to drink excessively and where inappropriate costumes at Halloween parties.
Typically, the comments sections within online pieces are filled with the worst verbal diarrhea know to our species. I came across this comment, however.  She nailed it: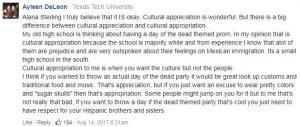 "Alana Sterling I truly believe that it IS okay. Cultural appreciation is wonderful. But there is a big difference between cultural appreciation and cultural appropriation.
My old high school is thinking about having a day of the dead themed prom. In my opinion that is cultural appropriation because the school is majority white and from experience I know that a lot of them are prejudice and are very outspoken about their feelings on Mexican immigration. Its a small high school in the south.
Cultural appropriation to me is when you want the culture but not the people.
I think if you wanted to throw an actual day of the dead party it would be great look up customs and traditional food and music. That's appreciation, but if you just want an excuse to wear pretty colors and "sugar skulls" then that's appropriation. Some people might jump on you for it but to me that's not really that bad, if you want to throw a day if the dead themed party that's cool you just need to have respect for your Hispanic brothers and sisters."~Ayleen DeLeon