Public health officials are warning about a series of Cyclospora outbreaks in US and Canada.

Source: http://www.foodpoisonjournal.com/foodborne-illness-outbreaks/fda-on-29-state-cyclospora-outbreak-tied-to-mexican-cilantro/#.VkWSAPlViko
From May to August 2015, 546 peoples from 31 states in US became sick due to Cyclospora infection. The U.S. Food and Drug Administration (FDA) indicated that this outbreak has been linked to imported fresh produce, including cilantro from the Puebla region of Mexico.
Around the same time, a total of 97 Cyclosporiasis cases were reported in Canada, mainly in Ontario. Two cases were hospitalized, and no deaths were reported. The source of this outbreak was not identified.
On October 17, CFIA announced that Costco Wholesale Canada is voluntarily recalling Alpine Fresh brand snap peas in Ontario due to possible Cyclospora contamination. At least 22 illnesses have been linked to the recalled snap peas.
What is cyclospora?
Cyclospora, a microscopic parasite, causes an intestinal infection known as cyclosporiasis. The parasite is typically found in imported fresh vegetables and fruits such as basil, cilantro, pre-packaged salad mix, mesclun lettuce, snow peas, and raspberries. People usually become infected with Cyclospora by ingesting food or water that has been contaminated with feces, and this parasite is most commonly found in tropical and subtropical countries. Cyclospora cannot be passed directly from one person to another.
The life cyle of cyclosporiasis: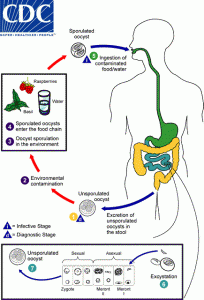 Source: http://www.cdc.gov/parasites/cyclosporiasis/biology.html
Why I haven't heard of it before?
The public may not be as familiar with Cyclospora as some other foodborne pathogens because Cyclospora only came to medical attention about 40 years ago. This parasite was once primarily a concern for developing countries, but since the 1990s there have been more and more Cyclospora outbreaks in North America linked to contaminated imported fresh greens.
How serious is the illness?
Cyclospora is generally considered as a low-risk foodborne pathogen. Infected people usually experience watery diarrhea, stomach cramps, fatigue, weight loss, and abdominal bloating, while some people do not get sick at all. The illness may last from a few days to a month. People who have previously been infected can become infected again. The combination of 2 antibiotics, trimethoprim (TMP) and sulfamethoxazole (SMX), is used to treat Cyclospora infection.
How can it be prevented?
According to the US Centers for Disease Control and Prevention (CDC), avoiding food or water that might have been contaminated with stool is the most efficient way to prevent cyclosporiasis. Contaminated food may not look or smell spoiled. Both washing fresh produce and treating it with chlorine or iodine are not sufficient enough to eliminate the parasite. Microbial food safety hazards for fresh fruits and vegetables, including Cyclospora, must be controlled by addressing good agricultural practices (GAPs) and good manufacturing practices (GMPs).
Here is an educational video about Cyclospora:
https://youtube.com/watch?v=dVFRgmZpTfQ%3Frel%3D0%26autoplay%3D1
For more information, please check out (References):
CDC, 2015. Parasites – Cyclosporiasis (Cyclospora Infection). Retrieved from http://www.cdc.gov/parasites/cyclosporiasis/
CFIA, 2015. Food Recall Warning – Alpine Fresh brand Snap Peas recalled due to Cyclospora. Retrieved from http://www.inspection.gc.ca/about-the-cfia/newsroom/food-recall-warnings/complete-listing/2015-10-17/eng/1445121740221/1445121744219
Cinnaminson N.J., 2015. Cyclospora Contamination and Infection Risks. Retrieved from http://www.webwire.com/ViewPressRel.asp?aId=200735
Food Safety News, 2015. CDC: Cyclospora Outbreak Linked to Mexican Cilantro Sickened 546 People. Retrieved from http://www.foodsafetynews.com/2015/09/cdc-recent-cyclospora-outbreak-linked-to-mexican-cilantro-is-over/#.VkWGv_lViko
Mulholland A., 2015. Cyclospora outbreak: What you need to know about the parasite, illness. Retrieved from http://www.ctvnews.ca/health/cyclospora-outbreak-what-you-need-to-know-about-the-parasite-illness-1.2509552