Happy Spring Break Y'All!
So I went through the list of platforms and felt that EDpuzzle had some definite advantages for lessons that had to convey a process. We all have our special ways of explaining certain concepts— for me, I think I tend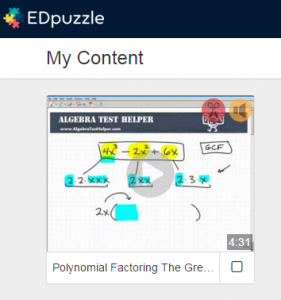 to be a metaphor teacher in that if there is a metaphor to attach to the math or physics, I will jump on the opportunity to exploit that!
The lesson that I searched for was on GCF (Greatest Common Factors).  I didn't actually use my Redd's That's 70s Show line of "Human Fun Sucking Vacuum" in my audio voice over (I like to get the students to imagine that they are math vacuums that can only suck out GCFs to the front of their polynomials. Missed opportunity?) Missed opportunity or not, I can personally see real value in this program— being able to add you own spice to a video is pretty cool!
Here is my link.
Time to pack for the hills!  (Going to Sun Peaks for 5 days… #woot!!!)