In 2008 I chartered a vessel for a pilot project exploring intertidal stone traps.  This was the gateway to a decade and a half archaeological adventure. My family was the crew in 2008 and we sailed from Vancouver to laxyuup Gitxxała in a 40 foot vessel.  We  worked our way through the territory one cove, one creek, one inlet at a time.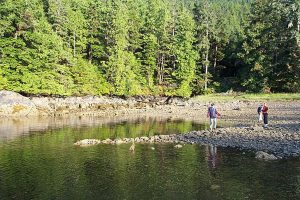 We hand mapped and sketched each stone alignment we came upon. Many of these places were familiar to me as I had been there while commercial salmon seining with my father in the 1970s and 1980s.  Taking the time to stop, observe and reflect on these traps led to a series of papers about Indigenous knowledge and selective fisheries. It also spurred a drive into appropriating more technical archaeological methods when I returned the following year with the aid of Gitxaała's commercial seine boat (Katrina Leslie), a home crew skippered by Teddy Gamble, and archaeologist Iain Mckechnie, then a doctoral student in anthropology at UBC.
Summer 2009 saw us back on the water searching out Gitxaała places of significance in order to survey and ground test some non-invasive techniques my UBC colleagues and their studnets had shared with me. We didn't have an archaeology permit – in fact, I will confess to not really being aware I needed one. Iain spent some serious time helping me (and the rest of the Gitxaała crew) understand the relevance of applying for a colonial approval to conduct archaeological research with my relatives in our territory.  We solved the problem by restricting any ground breaking (however minor) to sites registered as Indian Reserves which allowed us to avoid the provincial authorities.
Jumping ahead a bit (don't worry, I'll return to the main narrative soon enough). Drawing upon what I learned from Iain and through  collaboration with colleague Andrew Martindale the following four years (2010-2014) was funded by a SSHRC research grant. This funding allowed us to operate an Indigenous led research project in which settler colleagues could participate as allies, rather than leads.  MA student Jon Irons came with us one season to observe and then write about the project.
Back to the main story.
Our 2010 trip involved four main places: Kooryet, Wil lu sgetk, Citeyats, and K'moda. The plan was to map intertideal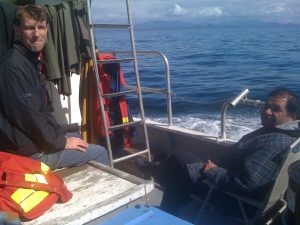 features and collect percussion core samples from each of the village locations located on reserves.  Our crew this first year included two archaeologists, four vessel crew members from Gitxaała and myself. Over the following years we made two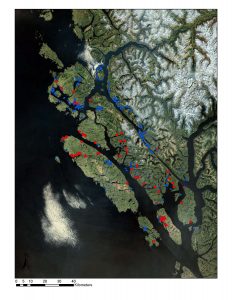 to three trips each summer on either the Katrina Leslie or the Northern Monarch drawing crew from both UBC and home.
Each place we stopped we would take out the surveying tool, a 'total station,' and proceed to map out the topography of the place. Iain operated the total station and the rest of us moved around the site with prism targets for Iain to record. Our first several sites were in the intertidal which meant our work day was restricted to the ebb tide. Once the tide dropped the beach and stone alignments were clearly in view. Mapping was simple and straight forward. 
Mapping the old village sites presented a different kind of situation.
My first time ashore at Citeyats, a village at least 5000 years old, I was impressed by the amazing growth of waakyil – 'wild' currant. I could see harvester trails winding through the currant patch intersecting with the fallen beams and rafters of the old longhouses that once stood on this ground. I wondered around as the archeology field crew unloaded their gear and started setting up. I wasn't really paying them much attention as I let the amazingness of this place of my ancestors settle into my consciousness.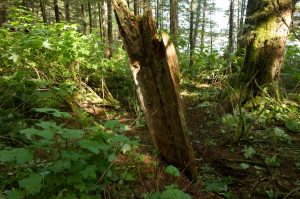 I was brought back to attention by the sound of slashing and snapping as my crew began clearing the site. "Hold on," I yelled out, "what are you doing?" "Clearing the brush," I was told. "Clearing all this growth away to map the site."
I was dumbfounded. The very idea that to map the site involved destroying it was a shock. My archaeologist crew stood there, machetes and saws in hand,  frozen as they waited for me to process things. I was reflecting on all the tools I had seen in the UBC Archaeology store room – machetes, axes, saws, pick axes, and shovels. It was only now that I was beginning to appreciate that those tools weren't for gathering firewood and building campfires, they were land clearing tools gathered over years of archaeological extractive enterprises.
I explained to my archaeologists that we were standing in a patch of waakyil, that clearly people were tending and using it, and that it was an amazingly tasty fruit that we needed to preserve. The berry patch would stay and another way would have to be found to map this site that didn't involved destroying a food crop. It took a bit of figuring out and more effort then would be normal, but we worked it out. Our total station was set up, and we deployed all hands to pull back the currants and devils club to clear lines of site between total station and prism reflectors.
Over the years I have reflected on this moment. It presents a double blind spot. For myself, having never been part of the formal archaeology undergraduate field school rite of passage, it never dawned on my that razing the site to the ground would be a key first step to prepare a site for scientific research. I was blind to the idea that anyone could see waakyil as an obstruction rather than as a cherished entity. Formal archaeology in its intent to be science deliberately blinds itself to subjective influences and, in this pragmatic sense, to the value of anything in the way of scientifically describing and analyzing a 'site.'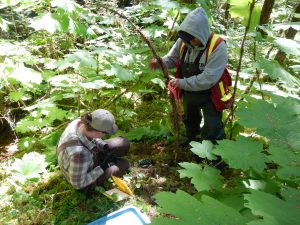 There is also something lurking in the notion that a site needs to be cleared, that what has accumulated in the present is in someway an interruption, not an interruption of the site, but an interruption of the work of science. The overgrowth of berries is a layer of interference obscuring the empiricism of scientific method focussed on unearthing (literally and figuratively) the past.  In this sense our contemporary Indigenous presence interrupts and distracts the scientist on his search for historical truth unmediated by the people who produced that very past.
My archaeologist team very cheerfully went along with my view and directive that the waakyil (and wooms – devil's club) be maintained. I suspect that there are many others practicing archaeology today trying to be less disruptive, less invasive than the twentieth century clear and trench archaeologists that proceeded us.