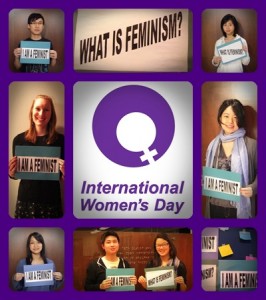 Where: IKBLC main concourse.
When: 10am – 4 pm.
Every year on 8 March, the world celebrates International Women's Day (IWD). IWD provides a common day for globally recognizing and applauding women's achievements as well as for observing and highlighting gender inequalities and issues. But not just on IWD, but all year round, many organizations and individuals work tirelessly to support gender equality through a multitude of initiatives, causes and
actions.
According to Wikipedia,
"Feminism is a collection of movements aimed at defining, establishing, and defending equal political, economic, and social rights for women. In addition, feminism seeks to establish equal opportunities for women in education and employment. A feminist is a 'person whose beliefs and behavior are based on feminism.'".
…Huh? So what is feminism?
What does it mean to be a feminist? And where are the feminists? Wait, am I a feminist?
Come to know more about IWD, redefine FEMINISM with us, and as a plus… have your photo taken!!
Where: IKBLC main concourse.
When: 10am – 4 pm.
See you then! 🙂