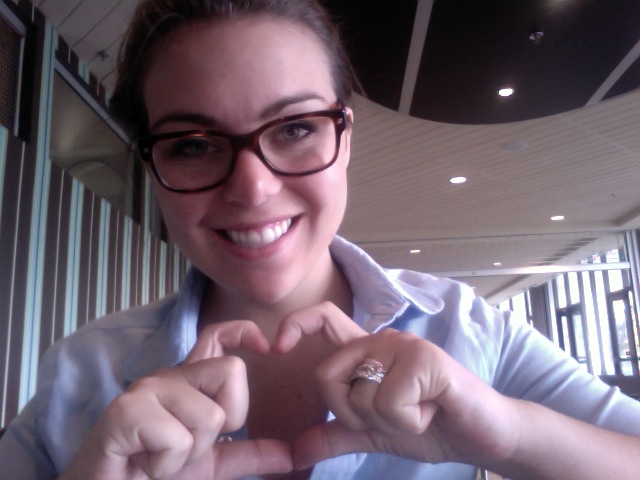 My love for the OSLC team. I send you my thanks.
I'd officially like to thank Ontario for inviting me back once again to present at the Ontario Student Leadership Conference. More specifically, Angela from YLCC and the conference organizer, for inviting me back to present for a second year in a row. A few days before Remembrance Day I flew back to Ontario to present to student council members from high schools across Ontario about youth in politics. Trip highlights included sleeping in and missing my first flight to Toronto, meeting a cute boy who works at Wendy's (how perfect for me, I love Frosties), and  having dinner with my family from my home away from home: the Toronto MOB.
During my presentation, there was this one girl with blonde curly hair who always made eye contact with me and was totally into the nerdy-student-leadership-thing I had going on. Maybe she even got excited when I mentioned longboards. Afterward my presentation was finished, she walked up to me and told me that we are absolutely the same person. She is who I am, but in high school form. WICKED. I gave her my card and I just received an email from her not too long ago. Megan's working hard to rock a Mayor's Youth Advisory Committee in her city of Cambridge (holla to Cambridge) and wants some advice on how to take it to a new level.
I'm THRILLED to talk to people like Megan and all the students who attended my presentation. I know in my heart that if I continue to talk to these student leaders that massive amounts of change will happen back in my home province. I believe in them 100% and I see how passionate they are about their big ideas that will have no problem becoming reality.
When I was in selection interviews for a scholarship while I was back in grade 12, I was asked by the man interviewing me why I should be chosen for the scholarship. My answer was simple. "I will make you proud and I won't forget where I come from." The man smiled, slammed his hand on the table as a symbol of agreement, and shook my hand. I ended my day at regional selections with that interview, went home and awaited to hear if I would move on to national selections.
I will make you proud and I won't forget where I come from. I haven't forgotten my past as a student council president, a youth mayor, and a student leader pushing to change the dynamics of her high school. I'm honoured that I've had more than one opportunity to return to OSLC, where I was once a delegate, to share my knowledge and "student council wisdom" with hundreds of young versions of myself. I may be in Vancouver, but I haven't forgotten the other students just like me back in Ontario who are creating a positive impact on their communities. OSLC is my way of giving back.
Angela, if you ever find this on the world wide web, thank you for letting me return to share my knowledge with others. And to the man who did send me to national selections for the Loran Award, I want you to know that I haven't forgotten where I came from and I hope that I'm making you proud.
Sincerely,
Erica Baker
Loran Scholar '09