Posted on behalf of Robbie Morrison, Associate Registrar & Director, Scheduling, Records & Systems Management
At the end of February, the SRSM team held a virtual retreat. As the timing of the retreat aligned very closely to the anniversary of moving to a virtual work environment, we chose to focus our time reconnecting across our team, have some fun, expand our understanding of our current priorities, and most importantly, celebrate our work and achievements from this challenging past year.
A couple of key highlights were utilizing Kumospace as a platform to eat lunch and connect across the team. It's a creative platform that allows you to move around and engage in conversations in different group, much like how you might move around a room at a party. You can also fill up your virtual drink!
We put together an accomplishments board as a team to feature the amazing work of our team and celebrate our accomplishments. If you have a moment, it's worth a read to see some of the many accomplishments the SRSM team has made during the year of COVID-19.
We took a group photo at the end of our retreat and I (Robbie) wanted to take one more opportunity to thank (in order of appearance below) Oana, Jessika, Jane, May, Odessa, Victoria, Rachel, Ryan, Brigitte, Ellen, Adrian, Kristina, Jason, Sahir, Ting, Alvin, Raymond K, Christine, Vicki, Brenda, Catherine, Samantha, Tiffany, and Raymond Y for their dedication and incredible contributions to the student experience of UBC over this past year.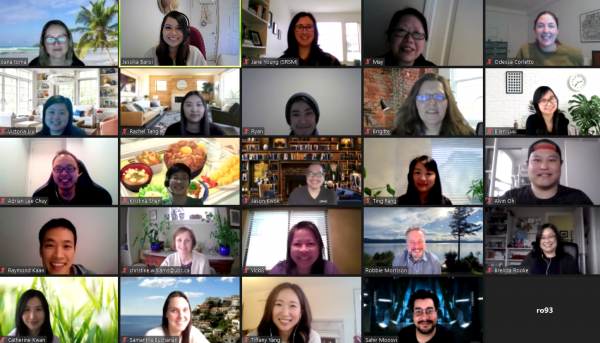 A Few New Faces
We were excited to welcome a few new faces to the team in February:  Robbie Morrison, Samantha Buchanan and Catherine Kwan.
Robbie Morrison – Associate Registrar & Director, Scheduling, Records & Systems Management comes from the Centre for Student Involvement & Careers here at UBC. Robbie spent a number of years building and expanding on the way first year students are welcomed and supported through their year of transition into UBC.
Samantha Buchanan – Team Lead, Scheduling Services joined UBC, from E-Comm 9-1-1, scheduling 24/7 staffing for two emergency communication centres. Sam was also a fully trained call-taker and RCMP dispatcher, actually dispatching calls for the UBC RCMP members.
Catherine Kwan – Scheduling Coordinator, Scheduling Services joined UBC from BC Children's Hospital, where she worked in various departments scheduling and slating for surgeons and monitoring from the Control desk. She also loves animals and has previously volunteered with the BC SPCA.
Catherine, Sam and Robbie met up in their first weeks of the role and found they have a number of similarities and differences:
Sam and Robbie both started on the same day with Enrolment Services
Catherine and Sam enjoy snowshoeing and puzzles
Sam and Robbie live in South Delta
All three enjoy ice skating
All agree they have never worked in an organization with so many hilarious acronyms as Enrolment Services
Robbie and Samantha both have young kids and both families have heard us referring to "T-reps" in our new roles. In both households, this has sparked questions about why we are working with dinosaurs in our new roles. In Sam's case, the T-Rep reference sparked her two-year-old to request the Paw Patrol episode featuring a T-Rex for a week straight. Other acronyms on our chuckle list:
SPOC – Live long and prosper
NAPS – Who doesn't need a nap at work
BCCAT – Felines that happen to live in British Columbia
Even in the midst of learning many new acronyms, Catherine, Robbie and Sam agree they have thoroughly enjoyed their first few months in the role and are excited to be a part of SRSM and ES.