The Okanagan Short Story Contest is annual contest, organized by the Creative Writing program in the Faculty of Creative and Critical Studies (FCCS). This writing competition is open to fiction writers in British Columbia's Southern Interior. Writers submit their stories, which are then read, anonymously, by faculty, and the shortlisted stories are sent to a guest judge to choose the winners in the adult and high school categories. This year's guest judge was author Naben Ruthnum.
This year, Manjinder Sidhu took the top prize with her story, Wax Off.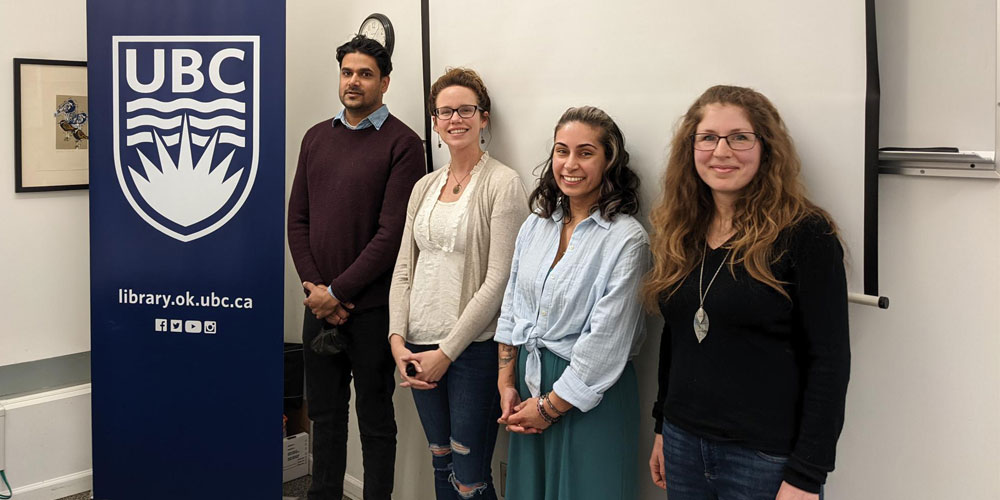 Manj is an Admissions Manager on our Undergraduate Admissions team in Vancouver, but works out of the Okanagan campus after having moved to Penticton with her family a few years ago.
"This is a complex story about individuality, what children take and what they give, communication between very different women, and sexuality, in a setting that combines earthiness and cosmetic perfection," says Ruthnum.
Read an excerpt of her award-winning story below! To read the rest of the story, which contains adult themes, please contact Manj directly.
---
The door groans as we walk in and I am already regretting my decision to bring Seema. Not because it's the type of place where the debit machines are constantly broken. Not because the floors are covered in a mixture of hair, dust and nail clippings. But because it's not the type of place you're supposed to bring a child. I grip Seema's hand a little bit tighter and tug her with me to the front desk.
"I have an appointment for 6:30? With Nina." I make my voice firm on that last note, trying to outdo the hairdryers and the chatter. The man behind the front desk grunts in our general direction and squints at the appointment book. Everything is written in pencil.
"Hair-preet? Brazilian?" He doesn't even look up.
I don't correct him for the mangle of my name and, instead, raise our clasped hands.
"My babysitter cancelled last minute."
His watery eyes finally glance over and he jerks his head behind him.
"It's your kid. Room two." I know we're dismissed when his fingers are scrolling again on his iPhone.
"Come on baby." I pull her along. I want to walk us as fast as possible to the back of the salon, but Seema is still a small four and easily distracted. Her finger keeps pointing and changing directions, her eyes wide, as she tries to make sense of this new place. The chairs that rumble, the sinks covered in saran wrap and the rainbow shelves of glass bottles on the wall. The women with silver foils on their heads. The smell of eggs and nail polish.
"Mama?"
"I'll explain later sweetie. Come on." And then we're there. Room two.
It's a room, loosely. These spaces are more like an afterthought of plywood and drywall nailed together to prop up thin excuses for doors. Soundproofing low on the priority obviously.
The good news is that our door is open, so I nudge Seema in ahead of me. Someone had attempted to paint here, once. I think it was meant to be a cheerful pink, but the lack of windows change the tone to something like old flesh. A flower border decal runs at the top, some of it peeling. Fits right in with the brown water stained ceiling. At least, I hope it's water.
I have been coming to rooms like this for so long, that even the items here hold a familiar comfort. There, the table for me to lie on: it takes up most of the space. There, shoved in the corner, a cart of supplies. One of those IKEA three-tiered things that hold everything and which you recognize, but can never specifically name. The wax heater gets king position, right beside the precut cotton strips, the tweezers. The second tier holds the jars of wooden spatulas, cotton balls, baby oil and baby powder. A tub of Vaseline and a pair of scissors are bottom rung. At least, the cart and the items gleam clean. Nina is a perfectionist in the ways that matter.
I keep scanning the room and finally, spy a folded stool.
"Mama's friend is going to give Mama a, uh, haircut okay? Can you watch Paw Patrol and have some goldfish? You can sit right here." I pop the container lid, my phone is unlocked and I have her favourite show cued to go. I hold my breath because a parent's second language is half-truths.
"Okay Mama." Seema sits down quick as a bunny and her starfish hands reach for the phone. A goldfish already in her mouth, her eyes fixed.
I let out a small exhale as most days, this child is a gift. She sleeps well, enjoys playing by herself and mostly listens well. But the best part, as I look at the top of her head and see the part of her hair, is that she trusts me with all her heart. She takes the world as I describe it – as if it can't be any other way…
Contact Manj to read the rest of the short story.