Who Wore It Best: Results
I'm sure many of you have been on the edge of your seats, waiting to learn the results from the "Who Wore It Best" post from October. Well fear not, the results are in!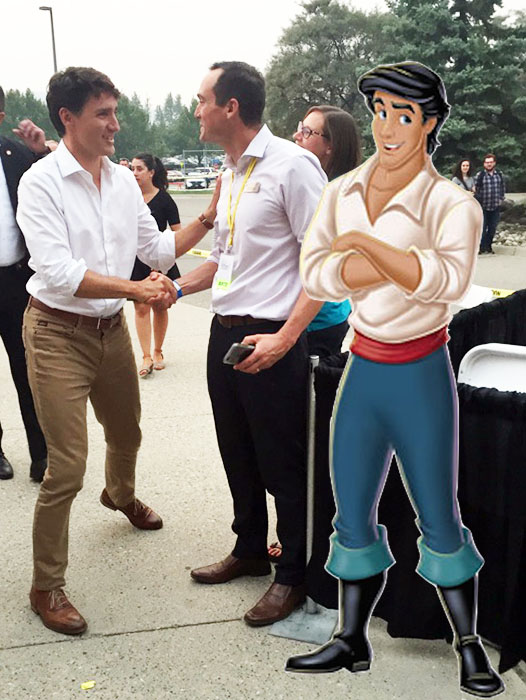 Justin Trudeau was a cut above the rest with his legendary, luscious locks. However, his hair was blown out by the competition. Prince Eric's glossy mane was just too good to be true (there's something fishy about this Prince Eric character…). Don't worry Justin, we're still hair for you.
Prince Eric could charm anyone (even a mermaid from the ocean) with his dazzling smile and royally good looks. Sadly, he wasn't able to charm the results into his favour. While Eric did have the majority of the votes, he was disqualified for being fictitious. I think that's fake news, but ES critics have spoken. Looks like Eric's career in fashion was (ship)wrecked before it even began.
With Prince Eric's disqualification, it was down to two. But there could only be one winner.
And that winner was… Anthony Dodds!
Anthony pulled ahead of Trudeau by one vote and just barely managed to hold on. We're not even sure if the last voter works in Enrolment Services at UBC, but we'll let him have it. Anthony would like to thank all of peoplekind for their participation.
And for anyone who doubts that Anthony was deserving of that win, here is a sneak preview of his 2018 holiday spread.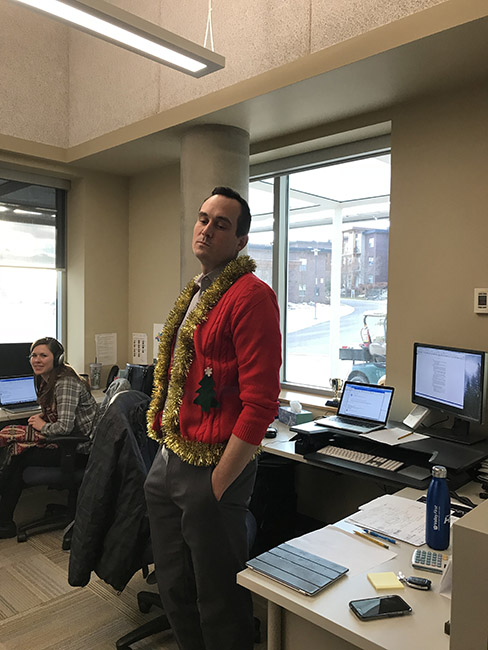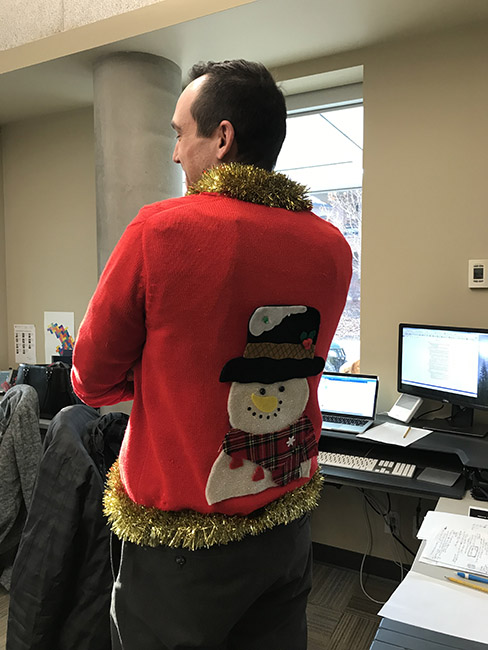 He can keep it business casual and greet the Prime Minister in a relaxed Oxford shirt, or he can melt even the frostiest of hearts in a festive holiday sweater with all the trimmings. Anthony's versatility makes him the obvious choice for the Enrolment Services Top Model award. Congratulations Anthony!
Here Comes Santa.
On Thursday, January 25th, President Ono visited UBC's Okanagan campus to meet with students, staff, and faculty. Members of Student Recruitment and Advising got into the spirit, bringing in homemade cookies and drinking from aptly themed holiday mugs.
Who Wore It Best?
Get your mouses and trackpads ready! We're back with round 2 of ES Who Wore It Best! This month's contenders: Stephanie Woods, Enrolment Services Advising Representative (left), and Jennifer Kerr, Manager, Student Services. Vote in the comments!