One of the most common refrains we hear after Wellness Afternoon each year is that people wish we could do it more often! We do have some plans underway on that front, but in the meantime be sure to check out all of the resources UBC offers to all staff in support of our health and well-being.
Employee & Family Assistance Program (EFAP)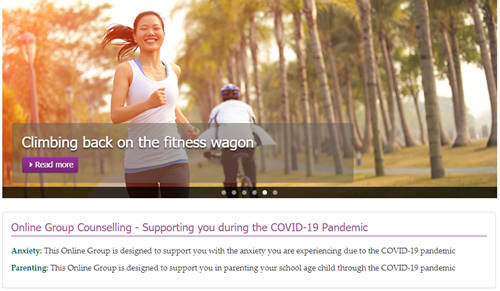 The EFAP is a confidential counselling support service that provides and your family with the help you may need to resolve a wide range of personal, work, health or life issues.
Counsellors are available to help with a wide range of issues including relationship challenges, stress, depression, anxiety, addition, family issues, grief and more. Services are fully confidential and available in multiple languages and formats.
WorkLife support services are also available through EFAP, and includes financial and legal support, career counselling, nutrition support and wellness counselling.
The EFAP website at http://www.workhealthlife.com also includes a number of self-directed resources on these topics and many others.
Visit http://www.workhealthlife.com to access any of these services 24/7!
Workshops and training on health and well-being
The Workplace Learning Course Catalog is available at http://wpl.ubc.ca and is the best place to find out what kinds of learning opportunities are available specifically for staff and faculty at the university, including those focused on health and well-being such as:
Overcoming burnout
Self-care 101
Positive coping strategies
Understanding your UBC benefits
There are a variety of courses offered both in self-directed and facilitated webinar formats on a regular basis.
Virtual health fair
You may be familiar with the travelling health fair that operates on campus throughout the year to provide a variety of assessments and health information, but did you know HR has a virtual version?
Click here to find a variety of screenings, tools and resources to help you assess your current health status and make improvements towards a healthier self.
Ergonomics
The UBC Ergonomics program is operating virtually! You can check out their Working from Home Ergonomics guide to implement their best practices and recommendations for a safe home environment, or if you need a little extra support you can contact them for a virtual assessment!
Access your extended health benefits!
If you are part of the UBC extended health benefits program and none of the free services above are meeting your needs, then check our extended health benefits to see how you may be covered for other health services. You can find more information on the central HR website , and ensure that you register for My Sunlife so you can log into the benefits portal to see your current benefit status and make any claims online!
Don't forget about the Health Spending Account too! These monies are eligible to cover a wide variety of health-related expenses that may not otherwise be covered by our benefits or you can use it if you've already reached the maximum threshold for some of the covered services.
Make sure you visit the main HR Health & Wellbeing website to learn even more about what is available.