Daria is an Enrolment Services Advisor with Student Support and Advising and has been with ES for the past five years – some of her current portfolios are focusing on supporting Loran scholars and co-managing Trek scholarship.  What Daria enjoys the most about ES is the friendly work environment and the team – "especially now that we are all sitting together on the 2nd floor of Brock!"
Tell us about your most recent adventure!
In May, I went to Malaysia. One of my friends is from Kuala Lumpur (KL), and she invited me to visit her family. We met in KL, and after a few days headed up north to Penang Island, where we spent time in Batu Ferringhi and George Town.
What were some of the highlights during your trip?
 Visiting Penang was definitely the highlight of this trip. Although I enjoyed the hustle and bustle of KL, George Town has a relaxed, bohemian port city vibe that reminded me of San Francisco. It is full of art and beautiful colonial and Peranakan architecture. You may have seen some of it in Crazy Rich Asians, as George Town was one of the primary filming locations.
In recent years, George Town has become known for its street art. Lithuanian artist Ernest Zacharevic, who is sometimes called the Malaysian response to Banksy, created interactive murals which are enjoyed by tourists and locals. If you are in Penang, getting a picture with children on a swing is an absolute must! However, in addition to Zacharevic's graffiti, I noticed a lot of other paintings popping up on the city streets.
Another thing I really enjoyed in George Town was getting a tour of the Blue Mansion – a heritage building with turbulent history. It was built for a Chinese merchant Cheong Fatt Tze in late 19th century, and was restored in the 1990s, earning the 2000 UNESCO 'Most Excellent' Heritage Conservation Award. It now serves as a luxury hotel and has been featured in several movies.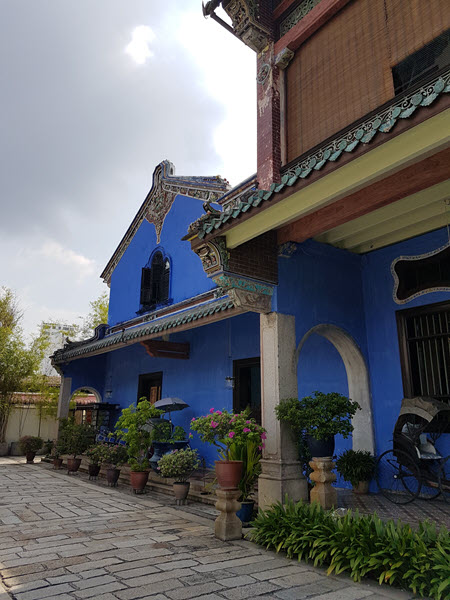 In Batu Ferringhi I visited a tropical spice garden, which I highly recommend if you are passing through Penang. This is an eco-tourism destination and I really enjoyed their guided tour, where we not only got to learn about various plants grown on the premises, but also tasted some of them. Nearby there is also a fruit farm and a butterfly garden which unfortunately I did not have time to visit, but now I have a reason to come back one day.
What were some of your favourite things to eat?
 Malaysia is a food heaven! Whether you are an omnivore, a vegetarian, or stick to some other diet – there is something for everyone. Prices are very affordable, and food is healthy and often home-made.
While in KL, I got to visit a night market – no offence to our night markets in Vancouver, but this was the real deal. About 50% of it consisted of different kinds of durians, and there were many foods I was not familiar with, but I got to enjoy nasi lemak and some of the best kueh cakes I've ever had.
Kueh cakes
Penang is famous for its diverse, flavourful street food. After dark, when the temperature drops, the streets have a party-like atmosphere, with vendors setting up shops on the street and delicious smells saturating the air. Penang is known for its laksa, which is different from the same dish served in other parts of SE Asia. It is normally cooked with meat, but I had no trouble finding a vegan version, so there is really no excuse not to try it!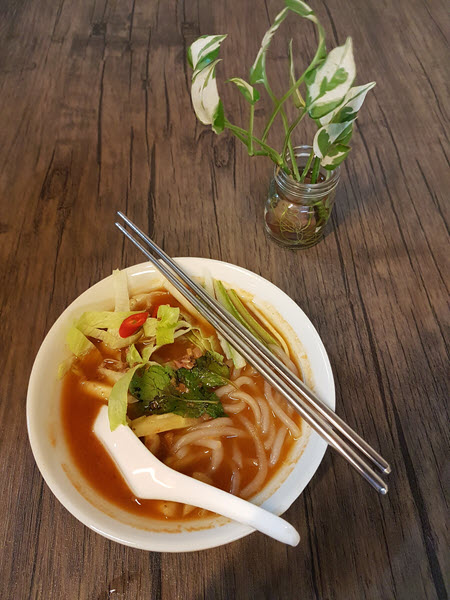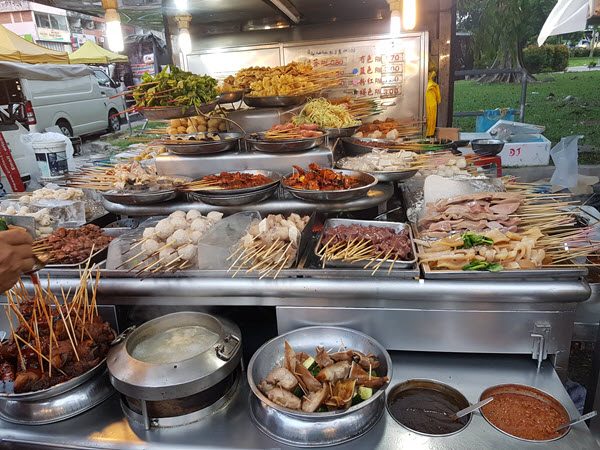 Lastly, do you have any advice for our future jet-setters?
Be prepared for some chaos (this is no Singapore), and take care when crossing the street. Traffic is very heavy in George Town and there aren't many crosswalks around, so it's a good idea to remain alert while out and about. That being said, I found the city very safe and tourist-friendly, and definitely hope to come back in the future, as there is still so much more left to explore. Another great thing about Malaysia is that many locals speak English, and you will find signs and menus printed in two or three languages, so getting around is fairly easy.