Introducing Kona!
Her Bud: Deb Mason, Business Analyst, Integrated Program
Name: Kona
Age: 1 year
Type: Thai Street Dog

Origin Story
We rescued Kona for 4 months ago from Phuket, Thailand through an non-profit group called Rescue Paws Canada. This group rescues Soi Dogs, street dogs, in Thailand. Dogs there are sometimes rounded up and sold as meat. Yes for real! Rescue Paws uses social media to match up dogs with people here in Canada, and arrange for volunteers flying from Thailand to bring dogs back to Canada with them on their flight home.
We saw a write up on her and some videos and instantly fell in love with her sweet brown eyes.
She has some social issues from her life in Thailand. She is distrustful of people and afraid of cars, other dogs and any loud noises. I am so impressed with how much more confident she is now that she has a loving family.
Interesting Facts
Kona is a street dog with very little street smarts. She was recently startled by friends arriving for a dinner party and escaped the front yard. She was hit by a car, and bolted in the Pacific Spirit Park across the way.
We canvased the woods for 6 hours but we could not find her. I was truly inspired by the amazing community of dog lovers in Vancouver, who reposted by lost dog posting on Facebook, created lost dog posters, and came out to search. As night fell, I really started to think the worst, and wondered what I would tell my kids.I left her blanket, some clothes of mine, and some chicken at the entrance to the park. I camped out in my car and waited. 
At 3:00am when the world became very quiet, and she had recovered from the shock of it all, I heard a few barks. I checked her blanket and the chicken was gone, and then saw her eyes shining in the light of the flashlight!! We had found her! Vet said she was very lucky to walk away with scrapes and bruises.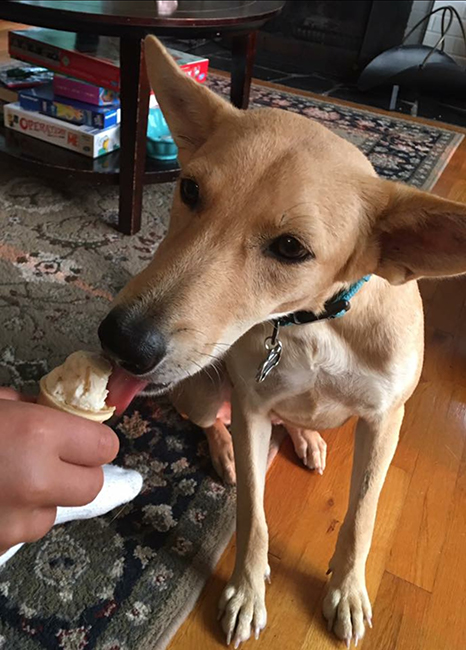 Favorite things
She loves ice-cream and her cozy doggy bed!