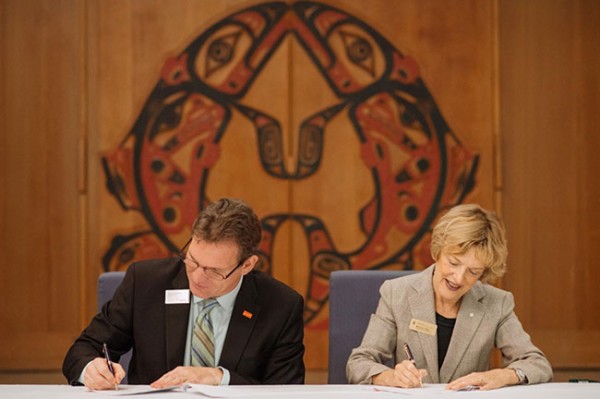 Interim President and Vice-Chancellor Dr. Martha Piper (UBC) and President and CEO Dr. Lane Trotter (Langara) signed the UBC-Aboriginal Transfer Partnership Agreement on Friday, September 25, 2015 at the First Nations Longhouse. The agreement clarifies roles and responsibilities between the partners in support of an overall package that includes providing clear admission requirements, scholarships and awards, and enhanced advising for Aboriginal students who register for the initiative.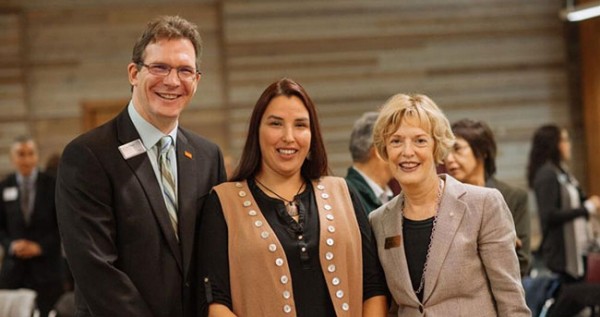 The Aboriginal Transfer Partnership with Langara began in 2012 as a pilot project with the Faculty of Arts, and grew to include the Faculty of Science, Sauder School of Business in 2014, followed by the Faculties of Applied Science, Forestry, and Land and Food Systems in 2015. Each faculty determines any program-specific admissions requirements.
UBC program advisors join Enrolment Services Recruitment and Admissions advisors in visiting Langara to meet and advise prospective Aboriginal students very early on in their studies at Langara. This allows students to consider a university degree as part of their long-term educational goals, and helps students make informed choices for courses that will help them transition smoothly to degree programs at UBC.
As part of the package, Langara budgets $10,000 per year in scholarships for registered Aboriginal Transfer Partnership (ATP) students, and UBC budgets $20,500 per year for ATP students. 
Many colleagues within Enrolment Services units have made important contributions to the initiative since it began in 2012 – from recruitment visits to Langara, admissions advice, provision of awards and financial advising, and consultation on the development and approval of the agreement. Thanks also to Kate Ross for her leadership in moving us from a pilot phase to a formal agreement.
"This partnership with Langara College builds on the university's commitment to recruit and support Aboriginal students," said UBC Interim President Martha Piper. "Aboriginal students' lived experiences enrich UBC's teaching, research, and learning environment."
Two students who developed connections to UBC advisors before they transferred to the Bachelor of Arts program, and received awards to support their education, are featured in this story: "Aboriginal husband and wife duo take on academic together."
More information:
Questions?
Kristen Harvey, Associate Director, Strategic Aboriginal Enrolment Initiatives
kristen.harvey@ubc.ca, and 604-827-2109