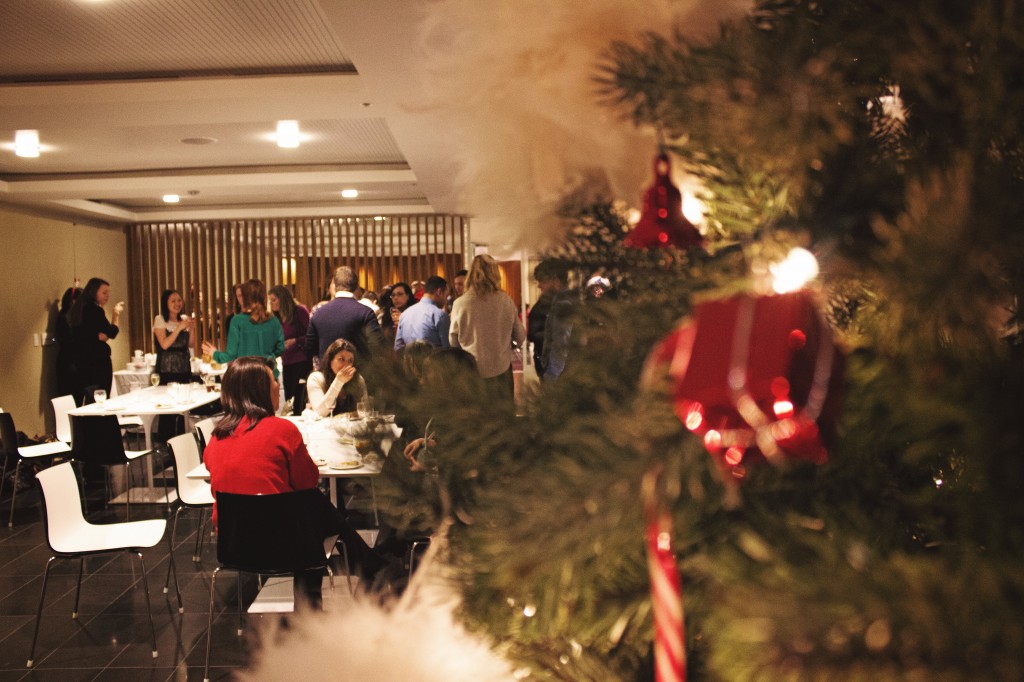 Another holiday party has come and gone! Thank you to everyone who attended, donated food, or bought 50/50 tickets for making this year such a success. We were able to donate $400 (including a very generous $100 anonymous donation) to Access and Diversity's Student Single Parent hamper program. This donation helped 4 different single parent families in our community enjoy the holiday season to its fullest. We also collected nearly 85 items to donate to the food bank. Again – a huge thank you to everyone for making our charitable efforts such a success!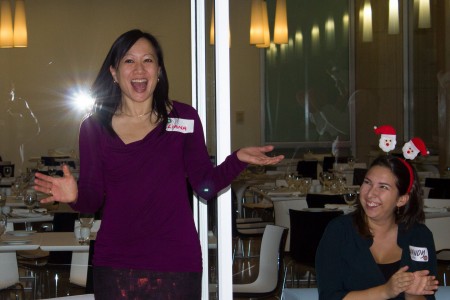 Highlights from the night
A lovely speech by Kate Ross to kick off our festivities. She included a quote from the late Nelson Mandela: "No one is born hating another person because of the color of his skin, or his background, or his religion. People must learn to hate, and if they can learn to hate, they can be taught to love, for love comes more naturally to the human heart than its opposite."
Liana Leung claiming the $292 50/50 pot. Don't spend it all in one place!
An appearance by Joshy the Snowman
The delicious coconut prawns and pecan pie
Chris Eaton accepting his jewelry draw prize. Way to go, Chris!
Think we missed one? Post it in the comments below!
And more
Read on for a list of prize winners, some thank yous, and Leah's great photos from the evening.
Draw prizes
Congratulations to the following lucky winners:
Purdy's gift pack – Nadine Alvarado Hensley (Service), Sarah MacMillan (Admissions), and Fran Hannabuss (Service)
David's Tea gift pack – CJ Rowe (Access and Diversity), Arthur Redillas (Admissions), and Darran Fernandez (Service)
Toque (with proceeds supporting the Ride to Conquer Cancer) donated by Maggie Hartley and Lynn Newman – Amandeep Breen (Senate & Curriculum), and Lindsey Kovacevic (Senate & Curriculum)
Bottle of win donated by Carla Da Silva – Mandy Thiessen (CFOE)
Jewelry donated by Jen Ellis Designs – Chris Eaton (Senate & Curriculum)
Starbucks gift card donated by Debbie Lin – Briana Sim (Service), Megan Gower (Communications), and Kristen Elder (Senate & Curriculum)
Thank you
…to all of our amazing volunteers! Without these folks, we couldn't have raised as much money or had as much fun. Be sure to give them a pat on the back the next time you see them:
Stephanie Oldford
Jin Lee
Annie Zeng
Joanna Ludlow
Carla Da Silva
Carla Tooley
Mike McGhee
Liana Leung
Leah Villalobos
Betty Wong
Janey Shum
Nancy Low
Nina Kessler
Strike a pose
A huge thank you to Leah Villalobos for volunteering her time and energy into taking all of these great photos! Just click if you would like to see a larger version of the image.