Student Records & Financial Services
Posted on behalf of Lindsay Brock and Ashley Stapleton
During summer 2021, the front-facing team from Enrolment Services in the Okanagan received a new name. Formerly known as Student Services, we are now Student Records & Financial Services (SRFS). We help students with a range of issues, such as student loans, records, accounts and finances, as well as issuing student cards.
Along with this rebranding, we have moved to a beautiful new space! We are now in Room 214 of the University Centre.
Our former space is now the home of Student Connect. This is a student-staffed desk that provides a first point of contact for students, staff, faculty, and the public who may have questions regarding the UNC or campus in general.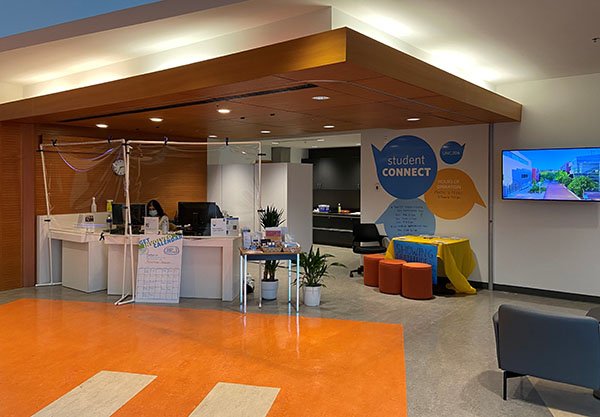 Getting a new student, staff, or faculty card is now a more streamlined process with the assistance of an online application system. Simply upload a picture that meets the specific requirements – that means no filters, no in-bed selfies, no funny faces, and with nothing obstructing your face (yes, these are all things that have happened!). Submit, sit back and wait for your confirmation email with all the pick-up details. Easy!
Spotlight on Stacy!
Posted on behalf of Sanchari Barua & Stacy-Ann Walker
Welcome Stacy-Ann Walker!
Stacy is joining our team after completing her Post Baccalaureate Diploma in Human Resources at Okanagan College in 2021. She has background in academia at University of Technology, Jamaica and will be sharing all that she has experienced and learned in her previous positions being involved in curriculum development and quality assurance for over 11 years. She will be providing support as part of the Call Centre Team for Student Records & Financial Services (SRFS) Team. She is very friendly and energetic and we are so excited to have her as part of our team!
About
I am from a beautiful island in the Caribbean called Jamaica. Often described as a literal dot on the world map, Jamaica has never lacked visibility. My country is known for its music (dancehall and reggae), birthplace of the famous musician Bob Marley, food, tropical weather, beaches, and famous athletes such as sprinter Usain Bolt. I was born and raised in Kingston, the capital of Jamaica. I love our food! It symbolizes the uniqueness of our people and culture. My all-time favourite is Jerk Chicken, it's not just food, it is an experience. The jerk pan, the smoke, the flavour, the spices the aroma!
Background
Having worked in a university environment for over 15 years, my philosophy of life has been anchored by servant leadership. Having been given the opportunity to mold young minds, guide students through their career path, and watch them excel encapsulates the true meaning of service beyond self.  Leaving my home country to tap into the unknown and becoming a part of this astute university, where I can learn and grow in an environment that fosters and promotes multiculturalism, diversity, and inclusion, is an absolute pleasure! I am looking forward to the dynamics and working with an amazing team!
What energizes you at work?
Being a part of a team where everyone has a great sense of humour, as it lightens the day's task.
What three words would your friends use to describe you?
Dedicated, stylish and funny.
What surprised you most about Canada?
I saw more people with dogs than children. I can never take a baby in a stroller for granted anymore, as it may very well be a dog in it.
If you were the only human left on Earth, what would you do?
Wonder why.
Awards & Admissions
Richard Arnold was stolen by the Awards team during the summer, and has joined their team as a full-time member. SRFS is very bitter, but happy for Richard ????
The Awards team has noted that they appreciate having Richard's help to support the additional workload due to COVID-19 and the recent BC flooding. Their team has been responsible for many one-time financial initiatives that take a lot of time to manage. Having a dedicated administrative staff member on the team has been tremendously helpful.