Using e-learning effectively, even at an individual level, has significant implications for how our courses and programs are designed. Access, costs and quality are the main issues we are trying to address in using e-learning but none of these will be adequately addressed if we simply add technology or e-learning to our current way of doing business. E-learning is expensive. There are significant human resource and technology hardware and software costs associated with it. So we need to integrate e-learning, not simply add it to our existing ways of teaching . This means redesigning our teaching so that the affordances of the different technologies and modes of delivery are exploited appropriately.
In this video presentation Dr. Ruben Puentedura explains three models of technology or e-learning integration that will help you understand some of the implications for teaching and learning.


Now read pp. 40-51 of Bates & Sangrà (2011)  for a discussion of the different modes of e-learning and the relationship between different technologies and different approaches to teaching and learning.
In his latest book, Bates (2014) argues that technology is having a growing impact on the core teaching activities of the university. He suggests there are number of key trends that suggest e-learning is moving from the periphery to the centre. These include the growth in for credit, fully-online learning, growing  use of blended or mixed-mode approaches (more recently called "the flipped classroom"), and growing interest in open learning and MOOCs.
Bates also devotes a large part of chapter 2 of his new book discussing the impact of technology on the nature of knowledge and points to arguments that knowledge is now more of a process than product, the result of the interactions between people rather than the product of individual minds.

Read sections 1.7 and 1.8 and 2.4 of Teaching in a Digital Age by Tony Bates. See the links below under Recommended Readings & Resources.
Trends in Online Learning
We end this unit with a presentation from Sir John Daniel, who discusses three trends in online learning:
The shift in online enrollments from public to private post secondary institutions;
The growing use and acceptance of Open Educational Resources;
The growth in the use of mobile communications technology.
Recommended Readings & Resources

Bates, A.W. & Sangrà, A. (2011). Managing Technology in Higher Education: Strategies for Transforming Teaching & Learning. San Francisco: Jossey Bass. pp. 40-51
Additional Readings & Resources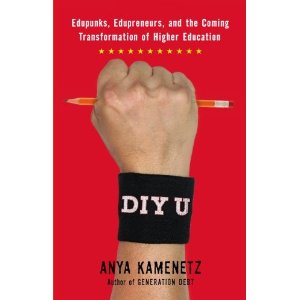 Anya Kamenetz has written an excellent critique of the US higher education system. In chapter 4, of DIY U: Edupunks, Edupreneurs, and the Coming Transformation of Higher Education.she addresses the implications for teaching and learning of making greater and more effective use of learning technologies. This chapter is directly relevant to our discussion but I recommend the entire book. It is relatively short and a fairly easy read.