Aboriginal Choice School – Prince George, BC
Our High School – Prince George Secondary – has a large population of First Nations students from the Lheidli T'enneh and Carrier Sekani First Nations communities. We have a number of Aboriginal Education teachers and teacher assistants, funded by both School District #57 and the Aboriginal community. The students are exposed to many elements of their culture, and some of them only learn of these cultural activities once they get to High School. Out of the 1300 students in the school, there are several hundred students who First Nations, and a number of other students of mixed descent who have First Nations connections.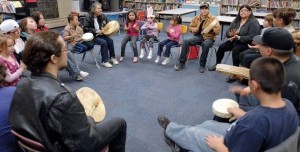 Prince George began an interesting initiative a few years ago. The school district in association with many other agencies set up an Elementary "Aboriginal Choice School" It began operations in 2010, and is the first Aboriginal school within the public school system in British Columbia.
I believe that if this is the right way to proceed. In a ground-breaking partnership, Aboriginal Peoples control the education of their children. It will go a long way towards stemming the loss of culture and the corruption of the cherished values of the First Nations peoples. A tradition of Oral history, language, and connection to the land are focuses that will allow the students to retain their identities.
References
photo: Prince George Citizen, by Brent Braaten, April 12, 2011