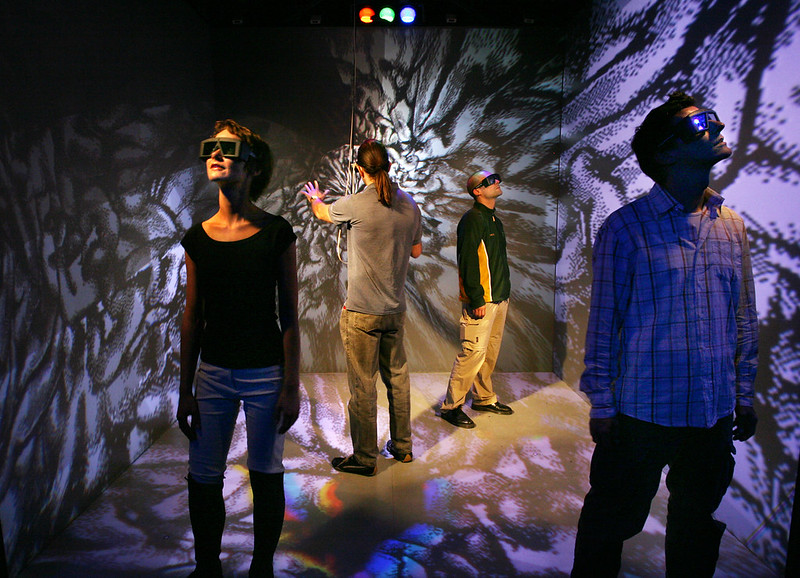 Immersive experiences, also known as Extended Reality (XR), challenge the paradigm that digital technology exists solely on 2D screens. It allows new perspectives and methods of interaction in both the physical and digital world, and even allows the merging and interaction between the two worlds, which are often seen as separate. The three most common types of immersive experiences are Virtual Reality (VR), Augmented Reality (AR) and Mixed Reality (MR), and the interactivity and immersion they provide can result in transformative learning experiences that were previously impossible. Immersive experience also covers current hype surrounding the "Metaverse" promoted in the rebranding of Facebook.
Virtual Reality
Virtual reality occludes the entire view of the physical world and replaces it with a rendered digital world. VR is by far the most common among the three, and is steadily becoming more mainstream, especially in the realms of entertainment and education. Different models of VR headsets are commercially available. 360-degree videos are arguably a form of VR, and are widely available for many applications.
Augmented Reality
Augmented reality is viewing the physical world that is superimposed or augmented by digital information and media; this is generally done through a device with a camera or dedicated AR glasses.
Mixed Reality
Mixed reality is much like AR, but where the physical and digital worlds interact with each other as a core function. This is also done through camera-equipped devices like smartphones or dedicated MR headsets/glasses.
Opportunity Statement
Immersive experience technologies are still new but are growing steadily in popularity and use. A major part of this is due to the advancement in smartphone technology that allows smartphones to act as entry-level immersive experience devices. This is an important stop-gap solution to the current barriers of cost and low supply of dedicated headsets/glasses that previously threatened the immersive experience market. It also helps introduce immersive experiences to the mass market, since smartphones are now so ubiquitous. With the help of smartphones and decreasing hardware and development costs, immersive experiences seem poised to become an important trend in the educational technology market in the near future. In the pandemic and post-pandemic era, the interactivity and immersion they provide are especially valuable as more learning shifts to home and isolation.
Resources for Discovering More
There are a number of student-authored resources on immersive experiences on this and past ETEC 522 course blogs that you can search out
Here is one that is near and dear to us that was developed in the Autumn of 2020: Immersive Experiences in Natural and Cultural History Education
Some Other Resources that you might enjoy, include:
---