Who Are We?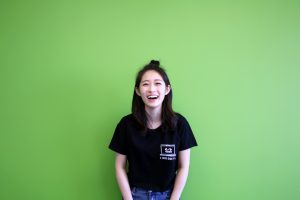 Louise Dong
Hi! I'm Louise Dong. I am currently a fourth-year Nutritional Sciences student at UBC. My main interests are entrepreneurship, computer science, and nutrition. I want to have my own startup company that incorporates nutrition with technology to have nutritional resource and knowledge more accessible for people on a regular basis. I am currently the Education manager at Inverse Technology Inc., the Co-Organizer and event director of EduHacks, the Co-Organizer of HackHub Vancouver Meetup and Digital Ocean Vancouver Meetup. 
Megan Leong
Hi! My name is Megan and I am currently in my third year at UBC in the faculty of Land and Food Systems (LFS) studying Nutritional Sciences. My main interest and hobby of mine are planning events for the faculty of LFS as I am currently the VP Student Life of the Land and Food Systems Undergraduate Society (LFS|US) as well as the co-chair for LFS Firsts. Planning events helps me de-stress from school.
Tina Lu
Hi! My name is Tina. I am currently in my third year at UBC studying nutritional science. I really enjoy eating different types of food from all over the world and studying the process of making food as well as the nutritional value of them. I love traveling, understanding different cultures and trying their food, I gained a lot of experience and knowledge while visiting. Outside of school I enjoying cooking, baking, and winemaking.
Sabrina Shen
Hi! My name is Sabrina. I'm currently in my third year of Food, Nutrition, and Health at UBC. I am interested in learning about human nutrition and how different aspects of the food system influence our diets. Although I've never lived on a farm (although I've always wanted to!), I have always wanted to learn about food production methods in order to improve those methods and make a difference in my community.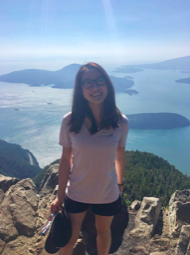 Tracy Leung
Hi, I'm Tracy and I am in my third year at UBC studying Food Nutrition and Health. One of my hobbies include hiking, so I am extremely grateful to be lucky enough to grow up in such a beautiful place here in Vancouver. After my studies, I am hoping to get the opportunity to travel and explore as many different places and cultures around the world as possible. But as for right now, I am looking forward to working on this project with the Galiano Community Food Program and am excited to see what we will each take out of this at the end of the semester.
Carolina Sasai
Hi, I'm Carol and I am currently in my third year at UBC studying Nutritional Sciences. I really like eating food, so might as well study it and have a deeper understanding of it. I also like being active through exercise, which makes up for my eating, whether that's in the gym or doing sports. I am originally from Manaus, in Brazil, and moved to Vancouver two years ago, the place I call home now!
What Are Our Interest? Why We Chose The Project? What Are We Wishing to Gain?
The community organization we will be working with is the Galiano Community Food Program which was established in 2008, and is part of the Galiano Club (The Galiano Club and Community Food Program, 2017). The program builds the community through all kinds of food-related activities. These activities include growing, preparing, preserving and sharing food. The Galiano Club also nourishes and strengthens island food security through learning and sharing skills. The Food Program focuses on availability, accessibility, adequacy, acceptability, and agency of food security in order to provide healthy food for all members of the community at a low-cost (UBC Wiki, 2017).
We chose this project because we have an interest in learning about the patterns of life of people in less urbanized areas. Since all of us are studying either Food, Nutrition, and Health or Nutritional Sciences as our major, we are passionate about gaining knowledge about different nutritional profiles in other communities and improving the nutritional status of the community. The nutrition assessment aspect excites us because we get to collaborate with a local Galiano doctor, a dietitian from UBC, and other healthcare providers at Galiano Island. Since some of us are interested in a potential career in healthcare, this is a great opportunity for us to learn about how these healthcare professionals assess nutrition.
Our Goals and Objectives
Our goal for this project is to build a positive relationship with the Galiano Island community in order to support them in identifying and helping alleviate community difficulties surrounding food insecurity and perhaps food literacy, since 20% of the population at Galiano Island is food-insecure, as communicated by Jane Wolverton, President of the Galiano Club. In order to help address food insecurity, our main objective will be to provide nutritional assessments of the Galiano Club's dinner menus for the food that they make for community members as well as some individual food diaries. The Galiano Club has had nutritional analyses done routinely in the past and would like more of that from us (J. Wolverton, personal communication, September 21st, 2017). As identified by the doctor and nurse on the island, a number of island residents have special diets and the healthcare team is interested in recommending meals specific to their needs (J. Wolverton, personal communication, September 21st, 2017). Therefore, we will be working with a dietitian at UBC and interviewing the local doctor, healthcare providers and islanders and to conduct a nutritional assessment of the population. Since we want this process to be collaborative, we hope to learn from locals about ways to grow, prepare and cook food as pertaining to their unique island culture instead of only teaching the community all the food and nutritional knowledge we have. In addition, we plan on going to the island on Oct.14th/15th, which happens to land on the Stock Up Market at the community hall, we will get to witness the last market of the season where islanders sell off the last food they have harvested, such as potatoes and garlic (J. Wolverton, personal communication, September 21st, 2017). Having these semi-structured interviews during the stock market will help us tailor the meal plans for clients, while considering their cultural preferences for food.
What is Galiano Island and the Galiano Club?
Some background information on the island is important for us to gain a better understanding of the food practices and culture of the island residents. Up until the late 1980s, half of the island was a tree farm owned by Macmillan Bloedel Limited (our faculty building is named after this forestry company!) (J. Wolverton, personal communication, September 21st, 2017). Over several years, this land was put up for sale and this was the beginning of a long-term land dispute on the island (J. Wolverton, personal communication, September 21st, 2017). In Jane's perspective, this dispute was mostly between people who wanted to do arts development on the island and people who wanted to do slow development and conserve most of the land. Many residents who bought land were anticipating building subdivisions. However, they were stopped by the land-use by-laws, which caused some landowners to fight with other residents over this for years, even lasting until today (J. Wolverton, personal communication, September 21st, 2017).
The Galiano Club was founded in 1924 to provide social, educational, and recreational opportunities, which included building a town hall and a library (J. Wolverton, personal communication, September 21st, 2017). During the mid-2000s, there were two stages of development for the city hall with included an upgrade of the kitchen(which was stage 1) and starting a food program(which was stage 2) (J. Wolverton, personal communication, September 21st, 2017). Part of the motivation for starting this development of the city hall was to help settle land-disputes on the island and bridge the division that had formed. The Galiano Club wanted a community development approach that would bring people together, with 3 main goals in mind: bond over food, pass down skills of older generations that younger generations lacked (ex. growing, preserving, and canning foods), and reaching out to isolated elderly folks to connect them back into the community with food gatherings (J. Wolverton, personal communication, September 21st, 2017). One of the projects of the Galiano Club was connecting elders with school children to develop a cookbook and also to share knowledge of food production, preservation and cooking (J. Wolverton, personal communication, September 21st, 2017). Passing on knowledge of obtaining, cooking, and processing food helps community members reclaim and preserve their cultural practices. This will in turn help to rebuild local food systems and sovereignty. Other events that the club was involved with creating were community potlucks like Nettlefest and the Winter Solstice Dinner before Christmas, Game Night (once a week), Orchard Fruit Picking, and the Saturday Farmer's Market (May-Thanksgiving) (J. Wolverton, personal communication, September 21st, 2017). The meal program consists of soup and bread that is served at the community hall weekly. The same volunteers that make these meals also package them, freeze them, and send them to the healthcare clinic to be distributed to people who may be food insecure (J. Wolverton, personal communication, September 21st, 2017). The school program that the Galiano Club is responsible for grows a school garden and greenhouse (J. Wolverton, personal communication, September 21st, 2017).
From our phone conversations with Jane, we learned that the population of Galiano Island is around 1044 people, with a large group of seniors mostly. There is also a significant low-income group (around 20% of the island population) that consists of mostly older members on pensions (J. Wolverton, personal communication, September 21st, 2017). Most of the population consist of Caucasian with some people of color (J. Wolverton, personal communication, September 21st, 2017). A quarter of the population is First Nations descent. There is also a large population of homosexuals (J. Wolverton, personal communication, September 21st, 2017).
Our First Impressions
After hearing lectures from class on asset-based community development, one of our goals for this project is to foster a bottom-up collaborative process where island resident perspectives and knowledge are central to protocols and development of research objectives that reflect community values and priorities (W. Valley, personal communication, September 13th, 2017). As we learned from lecture, many university researchers stress the importance of community-led programs as essential to projects that respond to local needs in the existing context (W. Valley, personal communication, September 13th, 2017), including Wesche et al. (2016) in their research article on building indigenous food security and well-being with programs meant to improve/increase wild food procurement. Our current goals by our next phone meeting with Jane are to come up with participatory community-based methodologies (such as interviews) to engage with island residents during the Stock Up Market that offers a beneficial method to make power relationships in this research process more equitable and ensure sensitive topics are handled appropriately. As mentioned above, we will be using these interviews to create menu recommendations that will improve nutritional status, while still keeping community preferences for food in mind.
The endlessly entertaining Ernesto Sirolli seems to agree with the asset-based community development approach and takes it one step further by stating that we can give the community an idea of how to approach their community issues but it is up to them to implement it (TED, 2012). We agree with Sirolli in that helping the community discover the passion they have for their own growth is the most important goal (TED, 2012). In order to do this, we cannot just sit in university lecture halls or work from Vancouver. We need to sit and listen to the local people of Galiano Island and help them based on their community-identified goals rather than approaching the community with a plan already formed beforehand.
We also recognize that no one is able to successfully start alone. The importance of working together was amplified in the last bits of Sirolli's talk; not one successful business is started by one person, it takes a team to do things successfully. Which is quite similar to food justice. It takes a community to further improve food justice on Galiano Island. Although the land disputes on Galiano have divided islanders for decades. At some point in time, farmers began to produce food and worked together, and this was there way to connect all of the citizens on Galiano Island. Thus, at Galiano Island, it requires everyone to participate and work together to bring a healthy, nutritious, fresh, affordable and culturally fit food system to the land, citizens, and animals. We will be working closely with the Galiano community to aim towards food justice.
References
Wesche, S. D., O'Hare-Gordon, M. A. F., Robidoux, M. A., Mason, C. W. (2016). Land-based programs in the Northwest Territories: Building Indigenous food security and well-being from the ground up. Canadian Association of Food Studies Journal, 3 (2), 23-48. Retrieved September 19th, 2017, from http://canadianfoodstudies.uwaterloo.ca/index.php/cfs/ index.
TED. 2012, November 26). Ernesto Sirolli: Want to help someone? Shut up and listen! [Video file]. Retried September 20th, 2017, from https://www.youtube.com/watch?v=chXsLtHqfdM
The Galiano Club and community food program. Retrieved September 21, 2017, from http://www.thegalianoclub.org/
UBC Wiki. Course:LFS350/Projects/Fall2017/galianomeals. Retrieved September 21, 2017,  from http://wiki.ubc.ca/Course:LFS350/Projects/Fall2017/galianomeals