All are invited to a film event co-hosted by UBC, the University of Victoria and the German General Consulate in Vancouver: An evening where we discuss the award-winning short film Masel Tov Cocktail. The event will start with an online watch party, followed by a discussion with the director and the film's star. The event details are: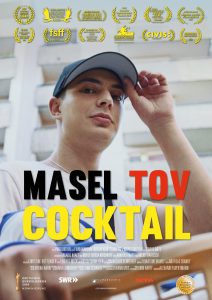 Date:     November 18th
Time:    Watch Party at 7:00pm
Time:    Conversation at 8:00pm
Venue:  Virtual (Register here)
You will need to register to join the event. If you would like to watch the film beforehand, you can reach out to Florian Gassner (florian.gassner@ubc.ca) who will then provide you with access to the movie. Here is the synopsis provided by the distributor:
Masel Tov Cocktail
Ingredients: 1 Jew, 12 Germans, 50 ml Culture of Remembrance, 30 ml stereotypes, 2 teaspoons of patriotism, 1 teaspoon of Israel, 1 falafel, 5 Stumbling Stones, a dash of antisemitism
Directions: Put all ingredients into a film, bring to boil and shake vigorously. Then garnish with Klezmer music.
Consumption: Light before serving. Enjoy at the cinema. 100% kosher.
Dimitrij Liebermann (18) is Jewish and punched Tobi in the face. Now he's supposed to apologize to him. But Dimitrij doesn't exactly feel sorry. While on his way to meet up with Tobi, he encounters a diverse representation of German society. Again and again, Dimitrij faces one struggle he needs to overcome: his German-Jewish identity.
An analysis of the status quo.