Kes Posgate
Photo credit: Kin Communications
On February 29, 2020, the Supreme Court of Canada issued its long-awaited decision in Nevsun Resources Ltd. v. Araya. This case concerned a group of Eritreans who claimed they were enslaved by the Eritrean government, which then sold their labour to Nevsun. One of the group's claims was that Nevsun was liable for breaches of customary international law ("CIL"), including prohibitions on forced labour; slavery; cruel, inhuman or degrading treatment; and crimes against humanity. Breaches of CIL are not currently recognized as a tort[1] in Canadian law.
Nevsun attempted to have the novel claim dismissed without a trial on the basis that it had no reasonable prospect of success. The Supreme Court of British Columbia refused to grant their motion—a decision that was upheld by the Court of Appeal and, ultimately, the Supreme Court of Canada. This recent ruling allows the claimants to proceed to trial, but it does not guarantee their success; it still needs to be decided at trial whether breaches of CIL are a tort.
Nevsun is easily perceived as a large leap forward in the fight against human rights abuses perpetrated by corporations. But even if the claimants ultimately succeed, what is the significance of recognizing breaches of CIL as a tort, and how will this recognition influence corporations to comply with international human rights norms? The answer to this question was a significant point of disagreement between the majority and the dissent in Nevsun, and one that is important to contemplate when considering the efficacy of tort law in remedying and preventing human rights abuses.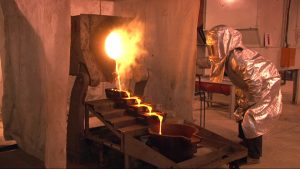 Workers smelting gold at the Bisha mine in Eritrea. Photo from CTVNews
The majority in Nevsun found that the symbolism reflected in the labelling of allegations was "crucial."[2] Relying on existing torts to remedy breaches of CIL may fail to do justice to human rights norms because, according to the majority, breaches of CIL are "sufficiently distinct in nature from those of existing torts."[3] Actions such as the ones alleged in Nevsun may therefore require stronger responses than typical tort claims can provide.[4]
The dissent,[5] in contrast, concluded that Canadian law already has tools for remedying human rights abuses, and that a new tort for breaches of CIL would not provide a better way of protecting rights. Specifically, human rights abuses can already be adjudicated through the torts of assault, battery, wrongful imprisonment, and so on. The fact that the actions alleged in Nevsun carry a significant degree of harm does not necessitate the creation of a new tort.[6] While such actions are certainly worthy of condemnation, the symbolic effect of denunciation is, according to the dissent, most appropriately undertaken in awarding monetary damages and in written decisions, not in the creation of a new tort.[7]
In summary, a major point of disagreement between the Court in Nevsun was the utility of symbolism. The dissent accepted that Canadian law already provided an adequate remedy for breaches of CIL—Nevsun could be held liable under existing torts for an indeterminant amount of damages. The majority, however, believed this result to be insufficient—an adequate remedy requires a certain level of symbolism, which may require the recognition of a new tort for breaches of CIL to attain. But is symbolism really that important?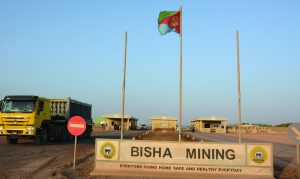 Bisha mine. Photo credit: Nevsun
I generally agree with the majority that, yes, symbolism matters. The dissent's notion that it is criminal law, not tort law, which serves the symbolic purposes of denunciation and deterrence is a rather formalistic and orthodox approach.[8] To see that torts are remedial as well as political tools, we need only look to the use of civil litigation in the #MeToo movement,[9] class actions and human rights complaints in addressing Canada's treatment of Indigenous peoples,[10] and negligence actions in affecting prison policy.[11] The use of torts in addressing international human rights violations is no exception.[12] In this sense, the symbolic effect of tort law is important: if torts are to be used to advance human rights, then we require torts which accurately reflect the harms alleged.
Symbolism is, however, far from the solution. Much more than a new legal category for grouping allegations of wrongdoing is needed to influence corporations to comply with international human rights norms. Even if breaches of CIL are ultimately found to be a tort, I doubt that the ripple effect of this ruling will significantly alter the landscape of Canadian human rights issues. Future claimants still face substantial barriers, such as establishing that Canada is the most appropriate forum to bring their claims[13] and being able to collect successful damage awards from companies.[14] These are issues which symbolism alone cannot surmount.
[1] A tort is a wrong against a third party, actionable in law, typically for money damages (Nevsun Resources Ltd. v. Araya, 2020 SCC 5 at para. 137 [Nevsun], citing Moran v. Pyle National (Canada) Ltd., [1975] 1 S.C.R. 393, at pp. 404-5). Some common torts include negligence, defamation, and assault.
[2] Ibid at para. 125.
[3] Ibid at para. 126
[4] Ibid at para. 129
[5] Nevsun actually contains two dissents, but it is the first dissent that analyzed in detail the creation of a new tort for breaches of CIL—an analysis which the second dissent largely agreed with (Nevsun at para. 267).
[6] Nevsun at paras. 218; 239.
[7] Ibid at para. 221.
[8] Ibid at para. 218.
[9] Howard Levitt, "Six ways civil lawsuits work better for #MeToo victims than criminal charges", National Post, 8 January 2018, accessed on 4 March 2020 at: <https://business.financialpost.com/executive/0109-biz-hl-levitt>.
[10] For example: First Nations Child & Family Caring Society of Canada et al. v. Attorney General of Canada (representing the Minister of Indigenous and Northern Affairs Canada), 2019 CHRT 39.
[11] Adelina Iftene, Lynne Hanson & Allan Manson, "Tort Claims and Canadian Prisoners" (2014) 39:2 Queen's LJ 655.
[12] For example: Garcia v. Tahoe Resources Inc., 2017 BCCA 39.
[13] For example: Araya v. Nevsun Resources Ltd., 2016 BCSC 1856 at paras. 226-339.
[14] "China's Zijin Mining succeeds in $1.8 billion takeover of Nevsun Resources", National Post, 31 December 2018, Accessed on 4 March 2020 at: <https://business.financialpost.com/commodities/mining/chinese-company-zijin-mining-group-successful-in-takeover-of-nevsun-resources>.
Kes Posgate is a 3L student at the Peter A. Allard School of Law and is working with the IJHR on a project concerning the implementation of legislation eliminating modern slavery from supply chains.