By Nick Huertas
Image: Mr. Josep Borrell Fontelles, High Representative of the EU for Foreign Affairs and Security Policy at the December 2019 Council meeting that started the process towards a European Magnitsky Act. [Source: European Union]
In October of 2020, the European Commission and the EU's Foreign Policy High Representative put forward a proposal for a bloc-wide Magnitsky Act for debate at the European Council: the proposed EU Global Human Rights Sanction Regime. Such a regime has already been discussed within the Council for well over a year, but it has not yet been finally adopted. The proposal is modelled on existing Magnitsky Acts in other jurisdictions such as the United States and Canada which enable governments to sanction individuals for violating human rights and engaging in corruption by freezing all their European financial assets and property and imposing permanent visa bans. Unlike its Canadian and American counterparts, however, the European Union's proposed sanctions framework does not include involvement in corruption as a ground for sanctioning individuals.
The proposal before the European Council was notably silent on why the bloc's proposed Magnitsky Act excludes corruption. However, one can make inferences about the reason based on the process of adoption. Corruption is central to current discourse in the European Parliament. Concerns about the prevalence of corruption arise in conjunction with fears about the weakening of rule of law principles in Central and Eastern Europe, due to the erosion of judicial independence and state encroachment on independent media. Yet, some member states have previously expressed the view that anti-corruption initiatives represent politically-motivated attacks against their leadership. Given the European Union's complex decision-making process, that requires either a unanimous decision, or a qualified majority at the European Council to adopt any bloc-wide common foreign policy, including the proposed Magnitsky Act, and the draft legislation, which requires a consensus decision to impose sanctions on individuals, it is possible that a streamlined legal framework focusing solely on human rights abuses would pose fewer logistical challenges to meeting the unanimity requirements for both adoption and sanctioning.
Arguably, passing any Magnitsky sanctions regime is better than passing none; nevertheless, omitting corruption as a ground for imposing sanctions, risks passing laws and setting up a regime that is not fully adequate to achieve its purpose to promote respect for human rights. As other existing Magnitsky Acts specifically recognize, corruption is inseparable from human rights abuses. Corruption is often the cause of, or occurs together with, human rights violations. Some have even argued that corrupt conduct itself can be properly conceptualized as a violation of international human rights.
For example, Anne Peters argues that corruption in the form of bribery in the judiciary and police force violates individuals' rights under Section 2(1) of the International Covenant on Civil and Political Rights [ICCPR] by limiting the ability of people to freely determine their political status and freely pursue their economic, social and cultural development. Similarly, an individual using the authority of their position in government to detain or imprison their political enemies is both a form of corruption through inappropriate use of state power, and also a violation others' human rights under the ICCPR. Peters concludes that, although "the language of law generally (and of rights more particularly)" may limit the extent to which a human rights-based approach can justify corruption as a violation of human rights, one can nevertheless make a legal argument for including corruption in Magnitsky laws by using existing international instruments and their definitions.
Peters' argument is bolstered by the United Nations Office of the High Commissioner for Human Rights, which explicitly links corruption and human rights; corruption negatively affects public access to state services such as health and education, both of which are rights under the International Covenant on Economic, Social and Cultural Rights. Moreover, disadvantaged groups who often bear the brunt of human rights violations are also disproportionately harmed by corruption, which violates their right to equality and non-discrimination.
Furthermore, corruption undermines the rule of law, weakens trust in institutions, and makes human rights monitoring more difficult. Article 2 of the Treaty on European Union specifically mentions the rule of law as "[…] one of the common values for all Member States." In addition, the 2020 European Commission Report on the rule of law specifically discusses strengthening the rule of law as a policy priority for the EU. It speaks of the rule of law as both an independent mandate and as part of its commitment to the UN Sustainable Development Goals. The EU's report notes that the commitment to the rule of law is key to the realization of human rights, and that addressing corruption promotes both.
Practically, targeting human rights violators' financial resources is an effective deterrent to prevent them from benefitting from their ill-gotten gains as well as a mechanism to hold them individually accountable. Human rights abuses are often motivated by the possibility of profit and perpetrators rely on corrupt dealings to realize that profit. The possibility of being sanctioned disincentivizes individuals from violating human rights for financial gain and promotes the EU's support for human rights domestically and internationally. Moreover, if the European Union excludes corruption from its Magnitsky Act, it will raise the risk of the EU being exploited by individuals sanctioned under other Global Magnitsky acts to launder and move dirty money through the European financial system, bypassing sanctions imposed in other jurisdictions.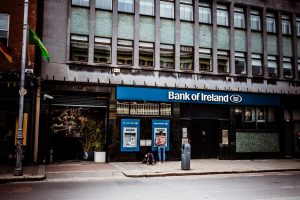 Image: A bank in Dublin. Bill Browder, a prominent anti-corruption campaigner, called out Ireland as a "soft spot" for international money laundering. [Photo by Cory Woodward]
Given the existence of international instruments and principles affirming the link between the rule of law, corruption, and human rights abuses, as well as the practical consideration that corruption and human rights abuses often occur together, the European Council should reconsider the decision to exclude reference to corruption in its proposed Global Magnitsky sanctions regime. Both Canada and the US already have Global Magnitsky Acts that include corruption and Magnitsky sanctions have been successfully used to hold criminals accountable and to disrupt money laundering efforts. Although the unanimity requirement poses some logistical challenges for including corruption in the EU Magnitsky Act, the trade-off for its increased efficacy is well worth it. If Europe wishes to adopt a robust, deterrent, and effective Global Magnitsky Act, it should not exclude corruption from its new Magnitsky law.
Nick Huertas is a 2L student at the Peter A. Allard School of Law and is working with the IJHR Clinic with the Magnitsky Team.